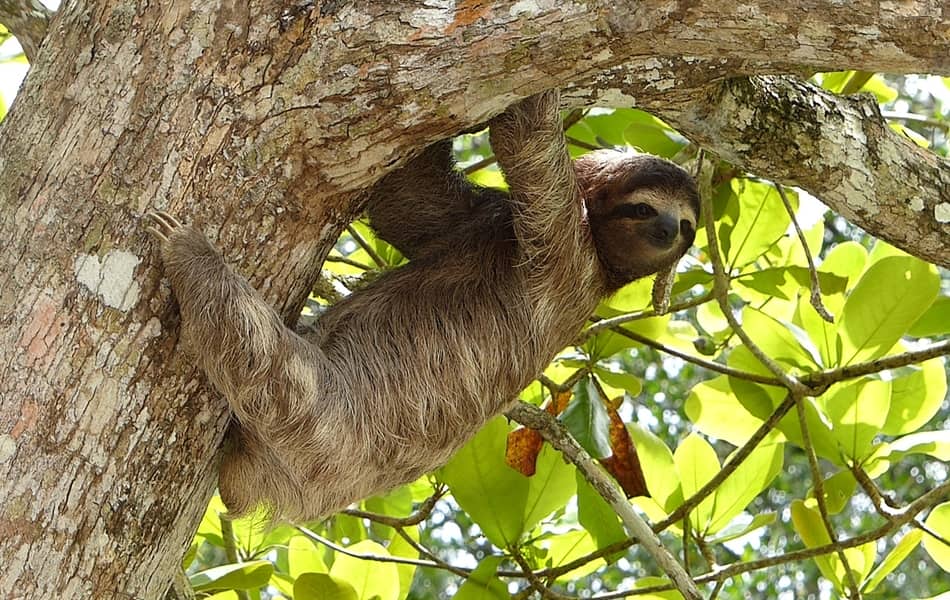 Where is Barbilla National Park Located?
This absolutely exquisite National Park is to be found in Central America, on the eastern slopes of a mountain range called Cordillera de Talamanca.
Bet you didn't know that these mountains are the widest and highest non-volcanic mountain range in Central America.
The park lies in both the Limón and Cartago provinces, forming part of the Talamanca-La Amistad Biosphere Reserve.
The Barbilla National Park is also closest to the town of Siquirres, which happens to be also the main entry point when you visit the park.
When is the best time to visit Barbilla National Park?
You can choose, but actually, the months between November and April are the high times to visit the park. Check which you prefer:
January: Sunny, warm, expensive, crowded. From the 5th, the crowds start disappearing and the next 4-6 weeks are generally perfect, the rainy season has just passed, and the forests are lush and green.
February: Travelers start to pick up again in February and this is a dry season. It is the time when the trees of the tropical forests on the Pacific side of Costa Rica are dropping their leaves. The rivers still have plenty of water. Expect the odd afternoon shower.
March & April: They are both the same these two months. It's a busy time in Costa Rica because its Easter and many Costa Ricans are on vacation at the same time. The southern, eastern, and central parts of the country are still green but some of the rivers have dropped running and hardly have any water in them. The north-west part is still very dry, and the trees are bare.
May & June: Showers of rain start gradually in May into June. Now the rivers are starting to fill up and things are cooling down a bit. This time of the year, the tourists have practically disappeared.
July & August: A perfect time to visit Costa Rica off-peak time. The rains are letting up a bit now and the inland rivers are great for rafting.
September & October: It's a wonderful time if you want to be the only ones around – a lot of rain in these 2 months and so all the grey weather brings in some big discounts of the year.  But still, on the Caribbean side, they are having dry weather, so it's great for the visitors if you are visiting this side.
November & December: The first six weeks are a bit risky regarding the weather – you could encounter a lot of wetness and then maybe not. So, discounts are available, and it is easy to make reservations. The last two weeks of the year, things are drying out in the Pacific north-west. Just remember, whether it's rainy or sunshine, this is the peak season with high prices and heaps of people everywhere in Costa Rica.
What's the weather like in the Barbilla National Park?
Conditions in Barbilla National Park support the complex ecosystems as well as the undisturbed regions. Naturally, it is a unique opportunity for scientists to study these biological processes.
In the park, the weather changes a lot. The highest point is known as Cerro Tigre hill, peaking at 1,167 meters, with the lowest valley only having an elevation of 110 meters. 
This means that fog and low clouds will routinely cover the shaded areas in mist. The annual rainfall will average between 140-180 inches of precipitation.
Nevertheless, temperatures do stay relatively warm, ranging between 64-82°; perfect conditions for a humid environment where there is plenty of moisture and which fosters lush forest growth.
How do you get to Barbilla National Park?
4WD Rental Vehicle, Private tour guide, taxi: The turnoff for the road to Barbilla is about 3 km from the town of Siquirres. And the park is about 17 km of the kind of terrain that it is recommended you have a 4×4 to drive.
You will come to the town of Brisas de Pacuarito and it will only be about a kilometer or so before you arrive at the end of the road and where the ranger station. Then you hike down to the river, which is steep terrain, to actually enter the park.
The park is difficult to access and there are no necessary facilities available, so visits are only for those who are accustomed to hiking – for inexperienced hikers, there are usually experienced guides to lead the hikes.
If you are coming from San Jose, you will take the Guapiles-Limon road (no. 32), and you will pass through the Zurqui tunnel and the Braulio Arrillo Mountains.
Once through the mountains, the road to Limon is straight without any hills. You take the Siquirres turn-off where you will find the main entrance, located 3 km (2 miles) from the town of Siquirres. Then you go on as described above.
By bus: If you take the bus from San Jose, you will be on the bus for 1.5 hours. Once you arrive in Siquirres, you can either rent a car or take a taxi to the park which will take you about 20 minutes.
By plane: If you go by plane, you will leave from Juan Santamaria Airport to the Siquirres airport or the Barra del Parismina airport – there are usually daily flights. From these airports, you can rent a car or take a taxi to Barbilla, about 15 to 20 minutes.
What to Bring/Wear to Barbilla National Park
'What do I need when I pack for Costa Rica?' – That's a question you hear a lot. An important tip to bear in mind is that it depends on when and where you will be visiting and what you plan on doing.
This means you can't just throw in flip flops and some shorts! But look, we have got this helpful packing checklist which should help. Basically, it will be:
Swimwear
Sandals
Sunscreen
Hiking shoes
Sunglasses
Hat
Batteries
Rain
Jacket
Medical kit
Camera
Waterproof phone case
Mosquito repellent
Insulated water bottle
Those are the bare essentials that you can start packing straight away – you will find a use for every one of them!
Operating Hours and Fees
Barbilla National Park entrance fee is $5.00 USD per person, per day.
Hours: 8 am – 4 pm.
Days: Every day.
Activities at Barbilla National Park
Hiking is one of the top activities at Barbilla National Park. As an avid hiker, you will find many things to see and explore.
For those who are not experienced hikers, it is best to go with an experienced guide.
Then there's birdwatching and wildlife to watch. Plenty of rare and endangered species live in the park, such as ocelots, jaguars, tapirs, pumas, and birds of prey.
Where to Eat
You are welcome to camp or fish when you are inside Barbilla, but you will need to come prepared with the necessary equipment and supplies required before you arrive. There are no hotels in the park – you can find accommodation and restaurants, etc. in Siquirres or Guapiles. Here are 3 to name a few:
Sardar Pizzeria
Apache's Restaurate
Soda La Tejita
Here are just some examples of accommodation outside the park:
Trogón Lodge
Sueños del Bosque Lodge
Dantica Cloud Forest Lodge
The conclusion to this bit of Eden
If you want to describe the Barbilla National Park in Costa Rica, a good phrase would be "a rare jewel", not as busy as some, but that in itself makes it a joy and wonder, a special place – a jewel.
It is 29,500 acres of lush green forest, containing a number of endangered species that thrive in this area; it is no wonder – when small numbers of people frequent the area.
It is not the easiest park to reach and best to drive a 4-wheel drive vehicle when entering; it is even more difficult in the rainy season.
Along with a couple of indigenous groups that still remain in this area, you can expect to see ocelots, jaguars, the sun heron, and more exciting bird and animal species – it's a three in one place this – a bird lover, animal lover, and nature lover's paradise. This is the splendor of Barbilla, untouched, and part of the 1982 UNESCO created La Amistad Conservation Area.
Photo Special Thanks to: https://unsplash.com/@javier365