Considering the natural and extraordinary vacation destinations, Costa Rica equally attracts immigrants and travelers year after year. The country provides you countless activities to choose from; hence, you will not regret booking your precious breaks. Each province in the country sustains lush green forests, marine wildlife, and sandy beaches.
However, if you crave terrains, long walks, and hiking with a view of the farm fields, head down to Diria National Park. Most travelers opt for the famous hiking trail at Rincon de la Vieja National Park.
But Diria National Park is one great option, which is less known to the public. And since the public has not heard of it yet, you can enjoy the place all by yourself.
Nevertheless, we will help you go through the experience of one of the off beaten paths in Costa Rica through this post.
Where is Diria National Park Located?
Guanacaste is one of the provinces in Costa Rica that boasts mountains, land, water, coastal ecosystems, and volcanos in one location. It is a pride to eight national parks, including Diria National Park.
The park was once a protected area until the government upgrades it into a national park. The endeavor of conserving it is still at a maximum level.
Diria National Park sits in the highlands of the Nicoya Peninsula. It is ten miles away south of the town of Santa Cruz. From the famous beach towns of Playa Flamingo, Playa Grande, Playas del Coco, Playa Avellanas, and Tamarindo, you can reach Diria National Park within an hour's drive.
When is the Best Time to Go to Diria National Park?
You can visit Diria National Park any time of the year, depending on your objective. If you aim to spot different bird species, plan your visit during the dry season (November – April). On the other hand, if you intend to view the Brazil Waterfall and other streams, plan your holiday during the green season.
How is the Weather in Diria National Park?
Diria National Park is the best option to escape the humidity and hot climate of the main cities. Generally, the Guanacaste province is dry from November to April. However, during these months, it is a crucial transition for migrating birds and other animals seeking food and shelter.
How Do You Get to Diria National Park?
Getting to Diria National Park will challenge you slightly as there is no signage getting there, except for the sign right in front of the park. Just in case you will be lost from the below directions, you can always ask a local for the route.
Some Costa Ricans are uncomfortable in English, but they are friendly and always willing to help.
From Santa Cruz, take the Calle Central lane until you notice a public park on your right and a church on your left. Take the next right and drive straight through five intersections. On the sixth intersection, take a left exit.
The lane is known as Calle 12, although there is no mark in any signpost. After six kilometers from the junction, you will notice a soccer field. If you do, you are now in the village of Arado.
From here, expect the routes to be muddy, gravel, sharp curves, few steep hills, and stream crossing. That is why we highly recommend renting a 4×4 vehicle when visiting the park, no matter what time of the year.
Continue to drive straight until the road gets dirty. Follow the course of the road until you reach the major fork.
Now you can see a signpost leading to Diria National Park. Drive for about six kilometers more. At the fork, take right then left immediately towards the base hill.
There should be a ranger station across the river. It turns to be a river bed if you happen to visit during the dry season.
If you are not into an adventure in a 4×4 vehicle, you can arrange for a guide or hire a driver to drop you off as there is no public transportation that leads to the park.
About Diria National Park
Diria National Park comprises 13,410 acres of tropical forests. Its maximum altitude is at 1,800 meters above sea level, which means cooler temperatures with various habitats from birds, reptiles, mammals, and plants.
The park is known to be a paradise for bird-watchers. It is home to at least 134 bird species like chachalacas, sparrows, hawks, banded wren, tityra, and much more as you read along. Also, it houses more than 380 varieties of trees.
What to Bring / Wear in Diria National Park?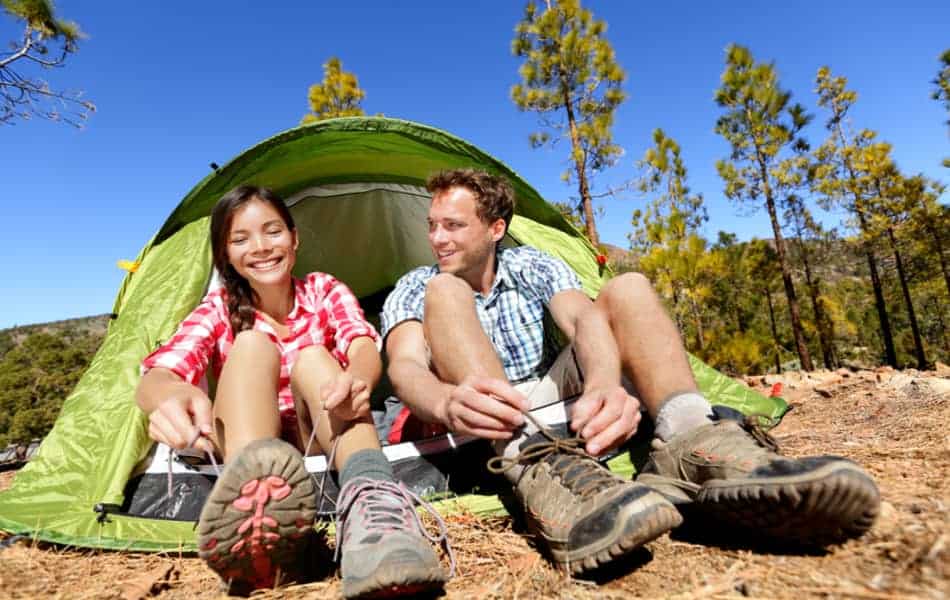 Pack up on snacks and refreshments while in Santa Cruz, as there are hardly any snack stores on the way. The ranger station has essential facilities, though it is better to pack your own.
If you plan to trek the trails, a good pair of sneakers is enough. However, if you visit during the rainy season, prepare for hiking boots.
The fundamentals, like sunscreen and a hat, is sufficient during the dry season. Include insect repellants as well.
Operating Hours and Fees
The national park is open every day from 8 am until 4 pm. The entrance fee for adults is USD6/head while it is USD5/head for children.
Activities at Diria National Park
1. Hiking Trails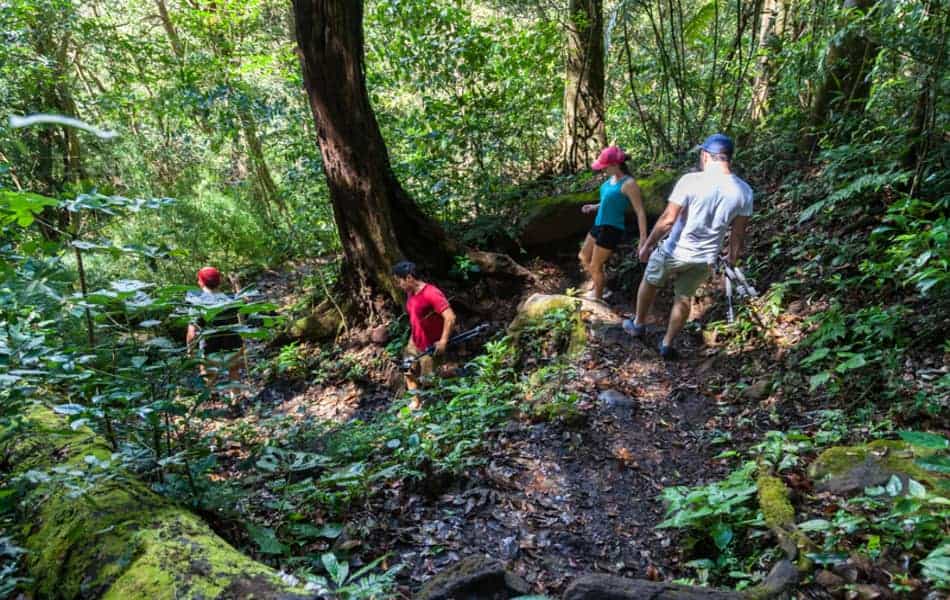 Diria National Park welcomes you to three main hiking trails that opened to the public in 2018. The first peak is a thirty to forty-five minutes hike that is a perfect warm-up as it is moderately flat for the first few minutes.
There is a short trek to reach the peak with three lookout points before coming down to the ranger station.
Along the trails, you can gape at a wide range of plants, bushes, and trees. Savor the sights of Guanacaste trees, ash, laurel, rosewood, gumbo limbo, ceiba, spiky pochote, mahogany, mango, and lots more. The trees have labels on their trunks, so you can simply identify each.
The second trail is a longer track that takes you around one to one and a half hours, depending on your pace. It is a steeper trail with two lookout points that connects to a dusty road going back to the ranger station.
Finally, the last trail leads you to a seasonal waterfall, Brazil Waterfall. If you wish to see the falls and river, plan your visit on a rainy season. Else, you can try other activities as below.
2. Biking Trails
Diria National Park also offers a biking trail for those who are not a fan of hiking. Biking is also present in all the tour packages the park is offering. You can cycle for as much as 12 kilometers at a 3,000 feet elevation.
3. Animal Spotting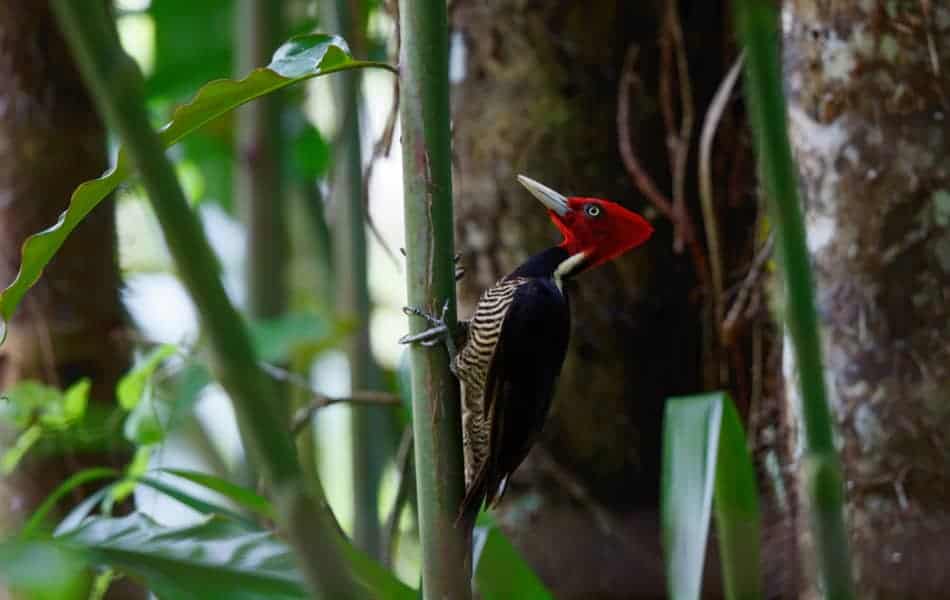 Diria National Park is at 150-1,800 meters above sea level. It only means that while the other lowlands surrounding the area are experiencing the dry season, the hills absorb more moisture due to their elevation.
Most animals journey to Diria National Park when other territories are droughty amidst the dry season. The animals can easily find shelter, food, and water in the park. Hence, you are at an advantage to conveniently spot more wildlife.
You can easily spot mantled howlers, white-nosed coati, giant blue morpho butterfly, white-faced capuchin monkeys, boars, anteaters, and spiny-tailed iguanas. You can also find a diverse species of birds.
It includes Collared Trogons, Squirrel Cuckoo, Lineated Woodpecker, Turquoise-browed Motmots, Great Kiskadees, Barred Antshrike, Yello-throated Euphonia, Long-tailed Manikins, and much more.
Where to Eat
The nearest mom-and-pop restaurants are in Santa Cruz. Hence, before leaving for Diria National Park, make sure to grab a meal or buy a take away to consume while at the park.
Where to Sleep
Although there is a small dormitory at the ranger station, which houses a maximum of 25 people, it is only open for researchers and scientists. Hence, the nearest place and best option to stay is in Santa Cruz.
Conclusion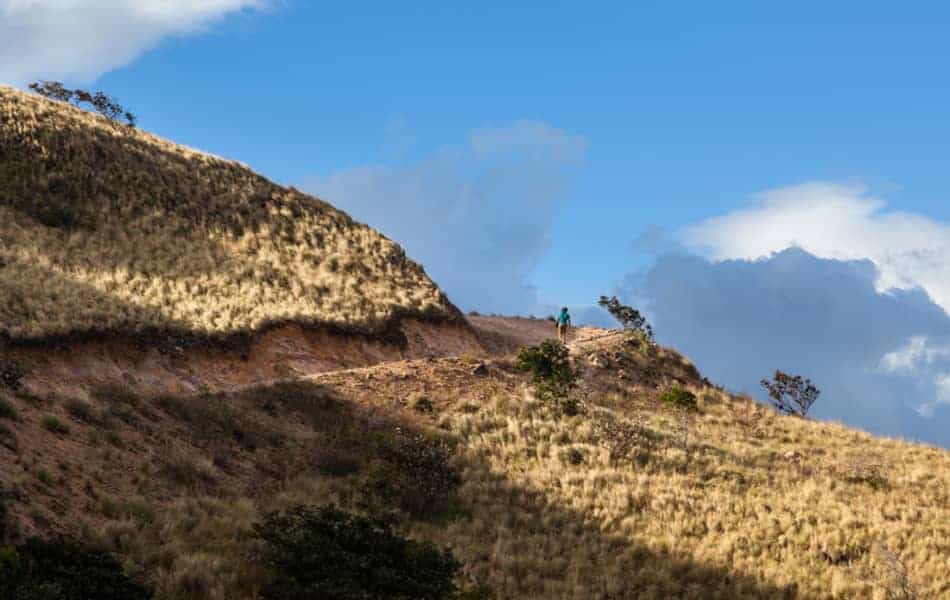 Although one of the least visited parks in Costa Rica, Diria National Park should be one of your bucket lists when choosing a national park.
It provides you a peek at the rarest, endangered animals, and plants including orchids, cacti, and bromeliads. Cool off from the heat and enjoy Diria National Park's tropical wilderness.