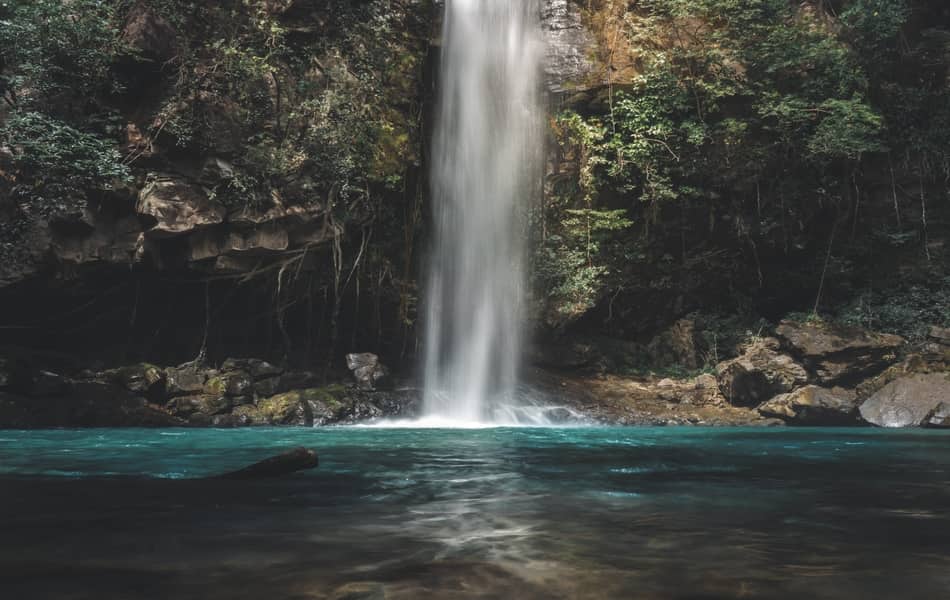 Where is Rincon de la Vieja National Park Located?
Rincon de la Vieja National Park is situated in the province of Guanacaste in Costa Rica.
It is home to the magnificent volcano Rincon De La Vieja which stands at an impressive 6,286 feet (1,916 meters) high and stretches 9 miles (15km) wide.
The colossal giant provides a geological window 600,000 years in the past. It sports at least 9 volcanic craters and 32 rivers flow down its sides.
Located 15.5 miles (25km) northeast of Liberia, Rincon de la Vieja National Park is teeming with exotic wildlife.
Over 300 species of birds, which include rare sights like the three-wattled bellbird and emerald toucanet, inhabit the park's premises.
Cougars, monkeys, kinkajous, and jaguars are some of the many animals that can be spotted roaming within the Park's confines.
Housing another volcanic giant, Santa Maria — Rincon de la Vieja National Park is a part of UNESCO World Heritage Sites.     
Situated nearby, the city of Liberia offers tourists access to modern facilities. One of the two international airports of Costa Rica is located in Liberia named the Daniel Oduber Quiros International Airport.
The opening of the international airport has transformed this sleepy cowboy town into a modern-day tourism hub.
Costa Rica's famed beaches such as Tamarindo lie within a short traveling distance making Liberia an ideal tourist stopover.
Despite rapid urbanization in the area, Liberia has retained the charm of a small colonial town which is evident in its architecture. The red-tiled roofs and the whitewashed walls have earned it the nickname of the "White City".
Broad avenues and easily navigable streets make it possible to access the town's attractions without any hassle.
These include beautiful historic churches paying homage to Spanish architecture and museums depicting Guanacaste's cowboy roots.
Colonial style houses constructed centuries ago adorn Liberia's neighborhoods and serve as another visual treat for the tourists. 
When is the best time to go to Rincon de la Vieja National Park?
Rincon de la Vieja National Park is pleasant year-round, but a visit to the Park is particularly remarkable at the beginning of the dry season (December – February).
During this time of the year, the rains have subdued giving way to clear skies and leaving behind lush landscapes and gushing waterfalls.
How is the Weather in Rincon de la Vieja National Park?
Situated in the Northwest Pacific, Rincon de la Vieja has the driest climate in Costa Rica. The temperature remains fairly steady year-round ranging between 80⁰F to 90⁰F. During the night the temperature may drop to 70⁰F. 
How to get to Rincon de la Vieja National Park?
The Ricon de la Vieja National Park is an hour ride away from Liberia high up in the mountains.
Travel by Air:
To get to Rincon de la Vieja National Park tourists can fly directly to Liberia via the Daniel Oduber International Airport or take a local flight from San Jose.
The airplane services Nature Air and Sansa Air provide 40-minute flights daily from San Jose to Liberia. Once at the airport in Liberia visitors can travel to their Rincon de la Vieja hotel via rent-a-car or taxi.
Local Bus Service:
Travelers can get to Rincon de la Vieja via public bus service from San Jose. The bus ride costs approximately $4 for one way travel and operates between the cities every hour beginning from 6 a.m. to 4 p.m.
Travel by Car:
Tourists can get to Rincon de la Vieja National Park by car via the Inter-American Highway. The Park has two entrances: Las Pailas and Santa Maria. A bumpy 7.5-mile road leads to the Las Pailas entrance which is most commonly used by tourists to access the National Park.
To reach Las Pailas tourists need to take the Inter-American Highway from San Jose west into Liberia. Travel 3 miles north and then take a right turn at the entrance marked Curubande/Rincon de la Vieja/Las Pailas. This route may take 4 – 4.5 hours to reach Rincon de la Vieja.
To get to the National Park through the Santa Maria entrance tourists need to take the Inter-American Highway from San Jose west towards Liberia. A little before downtown Liberia, take a right turn at the sign marked Barrio La Victoria/Rincon de la Vieja. This route may take up 4 – 4.5 hours as well.
Any mid-size car is appropriate for travel in the dry season, however, a 4WD is necessary for traveling through muddy roads in the rainy season.
Private Transport:
Private transport service such as a comfortable, air-conditioned van is also available and can pick up tourists from any Costa Rican town whether San Jose, Monteverde, Jaco, Manuel Antonio or Arenal.
Travel by Taxi:
For tourists already inside Liberia, a shuttle service can be used to get to Rincon de la Vieja National Park. This is somewhat of a pricier option for travel and may cost $20 – $30 per person for a one-way travel journey. 
Tourists can also hire an official red taxi which may cost $20-$30 for 1-3 persons for a one-way journey.
About Rincon de la Vieja National Park:
The magnificent twin volcanoes: Rincon de la Vieja and Santa Maria lie surrounded by a dense forest.
The air near the volcanoes carries the scent of sulfur from fumaroles and dense minerals from volcanic mud that covers the ground.
Rincon de la Vieja is a breathtaking natural wonder. The Rincon de la Vieja national park centered around the volcano provides tourists a chance to experience unparalleled natural beauty.
The park's trail takes tourists through the gorgeous volcanic landscape winding past enchanting waterfalls, steaming fumaroles, gurgling streams, ebullient mud pots, and a small volcano.
The picturesque ravines and verdant fields of Rincon de la Vieja National Park entice onlookers to set off on an adventure. The main attractions of the park include:
Within the park, visitors can enjoy incredible sights such as waterfalls, a mini volcano, fumaroles, mud pots, hot springs, and more.
A short distance from the park's Las Pailas sector lays the Red Pond and the Blanco River Pool, formed from red and white lava rock that are impressive sights to behold.
The park houses five waterfalls which attract tourists year-round. These include the famous Oropendola waterfall and the twin cascades at Las Chorreras.
What Items to Bring for a Trip to Rincon de la Vieja:
The weather at Rincon de la Vieja is mostly warm and dry, so it is best to dress light and stick to cotton fabric.
Shorts and tank tops are best for hiking while capris or long pants are good for horseback riding and zip-lining.
A swimsuit would also be required for the mud baths. For shoes, hiking sandals would be a good option.
Be sure to pack plenty of water and snacks. There is drinkable water available at the admissions office but hiking is sure to get you feeling hot and thirsty, so bring at least 1 liter of water for each person.
The temperature can get very hot so it is best to bring an insulated water bottle to keep your water nice and chilled through the journey.
A hat, sunscreen, and sunglasses are necessary to ward off the scorching sun.
Operating Hours and Entrance Fees:
The park is open from Tuesday to Sunday from 8 a.m. to 3 p.m. Santa Maria sector is open every day.
The entrance fee for Rincon de la Vieja National Park is $15 for adults and $5 for children aged 6 – 12.
Activities at Rincon de la Vieja National Park
Rincon de la Vieja National Park offers many excitingactivities for tourists. These include the following:
1. Hiking: There are 7 hiking trails in the Park. Tourists get a chance to explore the geothermal landscape while hiking.
2. Ziplining: The park offers visitors a canopy tour through the rain forests by zip-lining through the trees.
3. Tubing: Visitors get a chance to float through the rivers along with an experienced guide to take in the breathtaking surrounding.
4. Hot springs: Tourists can dip into a number of pools throughout the park.        
Where to Eat:
Lodges are scattered around the foothills of the volcano where tourists can stopover for a quick snack.
Otherwise, the hotel visitors choose to stay in provide serves all the meals whether buffet or a la carte. Some accommodations offer complimentary meals as well to visitors.
Where to Stay:
Visitors can choose to stay in a number of lodges in Rincon de la Vieja which mostly cater to mid-range travelers and may cost around $70 – $150 a night.
Just outside the park is an eco-friendly ranch named Hotel Hacienda Guachipelin.
The hotel offers beautiful rooms and complimentary breakfast. The perks it offers and its proximity to the Park makes it a comfortable place to stay in.
Borinquen Mountain Resort and Spa is also located just outside the park. Not only do they have beautiful cozy rooms to offer, they provide incredible tour packages and on-site spa treatments to help visitors relax and unwind.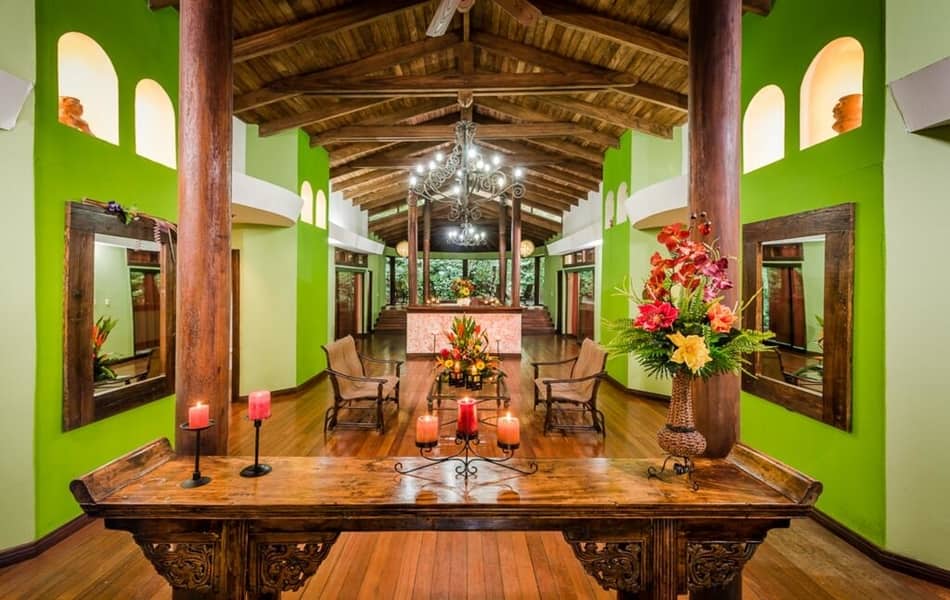 Conclusion:
Rincon de la Vieja National Park has a lot to offer to travelers. It makes for an excellent vacation getaway destination. The various exciting activities and breathtaking views are sure to make a memorable escapade.