Costa Rica is not just full of lush green forests or jungles and rich in exotic flora and fauna. The country further welcomes you to three main diving areas, namely Coco's Island, the Pacific Ocean, and the Caribbean Sea. Although Coco's Island is known for expert divers, the last two realms are still best for beginners.
In all the diving spots in Costa Rica, you may find yourself diving with bull sharks, turtles, eagle rays, manta rays, grunt jacks, white-tipped reef sharks, dolphins, and other marine mammals. If you are lucky enough, you may spot humpback and pilot whales from January to March or June and July as they migrate from the southern hemisphere.
So, before planning your next diving journey, let us help you decide where and when to book your flights to the best diving spots in Costa Rica.
The Caribbean Sea
The Caribbean Coast offers thousands of marine animals and hundreds of their species. The coral reefs are stunningly beautiful with biodiversity. The Caribbean Sea is the best diving location when you want a quieter, less touristy diving area.
There are not many diving spots than those of the Pacific Coast; nevertheless, the diving spots are still great for exploration. Generally, the best months to dive on the Caribbean Coast is from February to March, yet you can expect warm waters throughout the year.
1. Cahuita Reef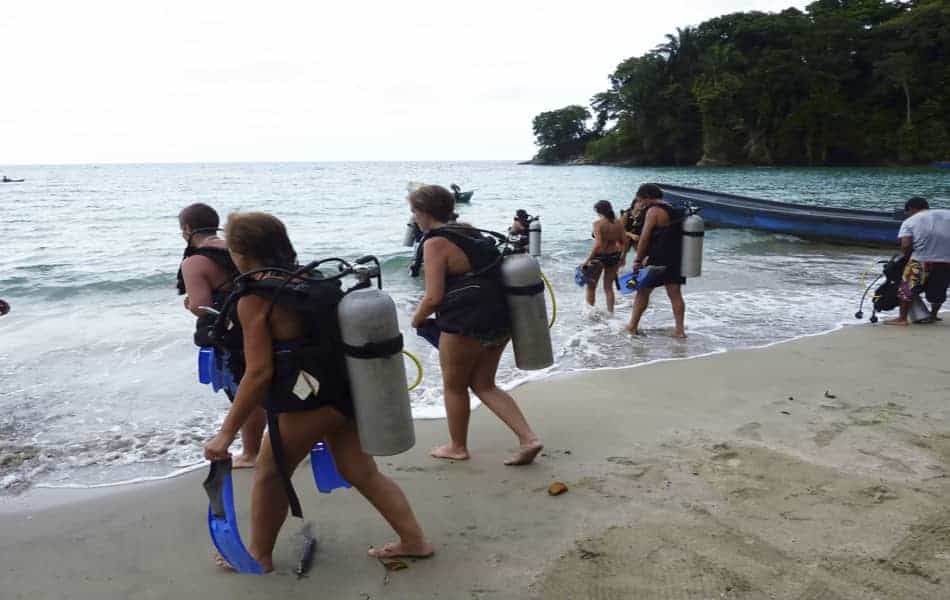 Cahuita Reef is Costa Rica's grand coastal reef sitting within Cahuita National Park. There are three main dive spots in Cahuita Reef, namely Punta Uva, Gandoca, and Cahuita National Park.
Besides the stunning marine life like giant manta rays, eagle rays, dolphins, and billfish, Cahuita Reef also boasts two separate shipwrecks to discover. Additionally, Cahuita Reef is near the shoreline of Cahuita Point, which divers can enjoy the views of brain or staghorn corals.
2. Isla Uvita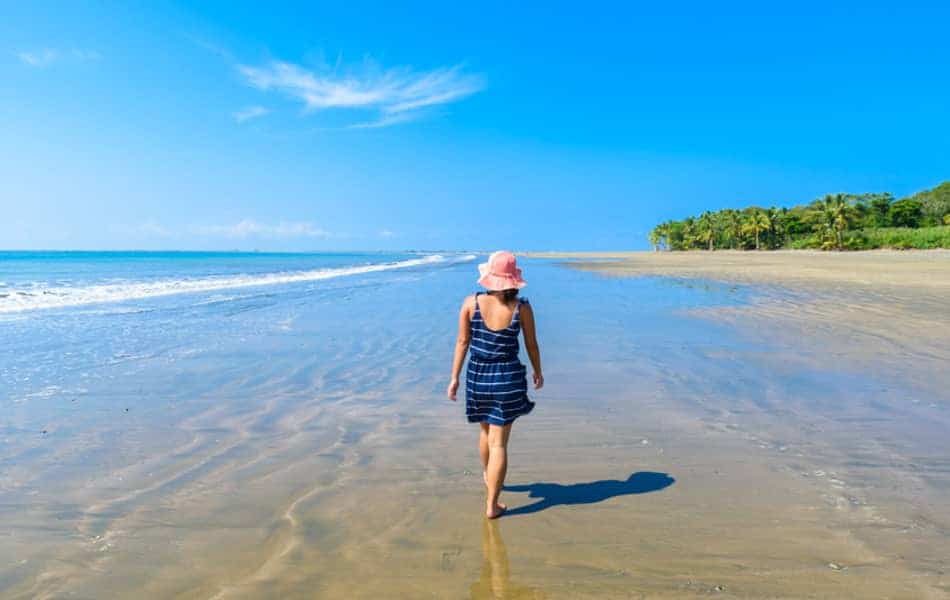 The island of Uvita is just offshore of the country's second-largest city, Limon. Similar to Cahuita Reef, Isla Uvita comparably has its undersea life beauty and shipwreck.
The island dates back in history when Christopher Columbus first land in the area in 1502. Years ago, Costa Rica's ship, The Phoenix, dive off of Uvita and unfortunately sank; however, it gave Uvita Island's undersea a beauty for both scuba divers and marine life.
The Pacific Ocean
The Pacific Ocean, on the other hand, is home to magnificent sea life creatures like different species of rays and whales. The water in the Pacific Ocean is cold and deep, making diving more challenging.
Additionally, it has less vegetation, rocky, strong currents, and deserted underwater landscape; however, it doesn't mean that there is not much marine life. As it happens, you can see hundreds of schools of fish upon diving.
The Pacific Ocean is also known for its shark diving every year, where divers can see shark migration at the same time.
1. Isla del Caño
Isla del Caño is tagged as the second-best (next to Coco's Island) scuba diving site in Costa Rica, which sets off the coast of the Osa Peninsula. Aside from diving, the island is also a suitable place for snorkeling across Costa Rica.
The so-called Caño Island is an ecological reserve and is home to marine wildlife, including eagle rays, turtles, fish, and reef sharks. If you visit at the right time of the year, you may witness dolphins and humpback whales.
2. Isla Tortuga
Situated an hour and a half boat ride from the shore of the Nicoya Peninsula, Tortuga Island can only be accessible by boat; however, some Costa Rica tours would provide transportation directly from the mainland cities.
Besides marine wildlife, divers can also spot some buried treasures on the island. It offers three shipwrecks where divers have a great opportunity to explore the remains and wonders of sunken vessels.
3. Manuel Antonio
The Manuel Antonio diving sites are located up north of Caño Island. There are fifteen dive sites settled in Manuel Antonio National Park, which provide a different range of marine life and landscapes.
Some have stronger currents during the rainy season; hence, we recommend beginner divers to select the sites near the shores, preferably from December to May.
During these times, you will be able to spot giant manta rays, sea turtles, scorpionfish, pufferfish, and a lot more.
4. Cabo Blanco Island
Costa Rica's first nature reserve in 1963 is Cabo Blanco Island, which is situated in the Southern part of the Nicoya Peninsula. Cabo Blanco or White Cave is not as prominent a diving spot as the first three, but it is a great area and experience for beginners and intermediate divers.
5. Gulf of Papagayo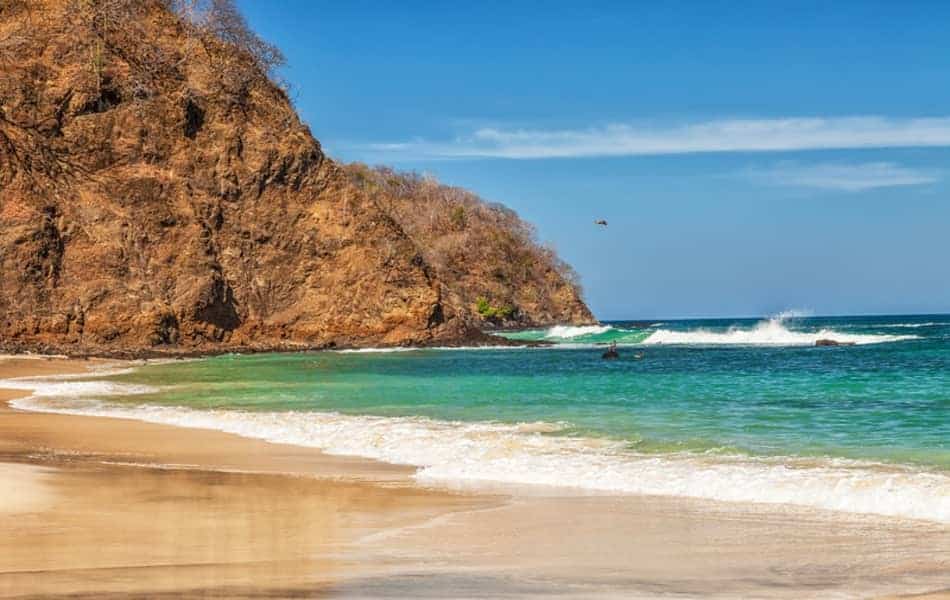 Situated in the North Pacific Coast of Costa Rica and the province of Guanacaste, Papagayo Peninsula came from the formation of volcanic and weather activities.
Two famous islands, Catalina Islands and Bat Islands are the best options for scuba diving, especially for beginners and intermediate divers.
Although the underwater visibility conditions are unstable, you still have big chances of spotting incredible marine life such as octopus, schools of fish, rays, and eels.
The Best Time to Go Scuba Diving in Costa Rica
Certain factors shall be considered, to enjoy scuba diving in Costa Rica before booking your flights. One should consider the rainfall status, water currents, sea life, and underwater visibility.
Costa Rica's dry season, which starts from December to May, usually has calmer ocean water. Its visibility is higher, reaching around 30 m, which is an outstanding option for those who have less experience or courage to dive in the open sea.
The dry season is also the best time for beginners to dive on the Pacific Coast, considering its warm and calmer conditions.
The rainy season in Costa Rica begins from May to November. Usually, rainfall is expected every day, making the visibility of the underwater lower than in dry seasons.
This season is the best option for those who are more experienced and those who seek more challenging and adventurous diving. The current during this time is more intense, and the chances to see larger animals like whales are higher.
Scuba Diving Try Dive in Costa Rica
Costa Rica has a lot to offer for its visitors. If you are a beginner or would want to try scuba diving, Costa Rica provides you a try dive with an instructor before you decide on taking the entire diving course. Trial diving in Costa is a safe course as all course procedures are well-prepared beforehand.
It doesn't matter whether you enroll in the largest diving center or a small school hidden in the beach of Costa Rica. The schools are based on standard procedures, so scuba diving is still a fascinating way for you to try when visiting Costa Rica. But make sure to check on the following list before enrolling in any diving school.
1. It should belong to an acclaimed association of diving instructors like PADI.
2. The dive guide should be authorized, and a professional diver obtaining a Divemaster level the least.
3. The dive guide should be a legal worker having a complete set of labor documents or cards.
4. Safety precautions should be set before the trial diving, such as a lifebuoy, first aid kit, pure oxygen tank, fire extinguisher, radio and navigation, and a spare tank.
Conclusion
Diving is a sport for everyone, and diving in the ocean of Costa Rica is a great adventure, especially if you are a beginner. Costa Rica has been a go-to spot for divers from beginners to intermediate to experts.
The country is enclosed with beautiful and stunning marine life that you do not generally see on the coastlines, such as coral reefs, shipwrecks, with their history.
Whether you're a beginner or an expert in scuba diving, consider Costa Rica's dive spots before booking your next diving experience.