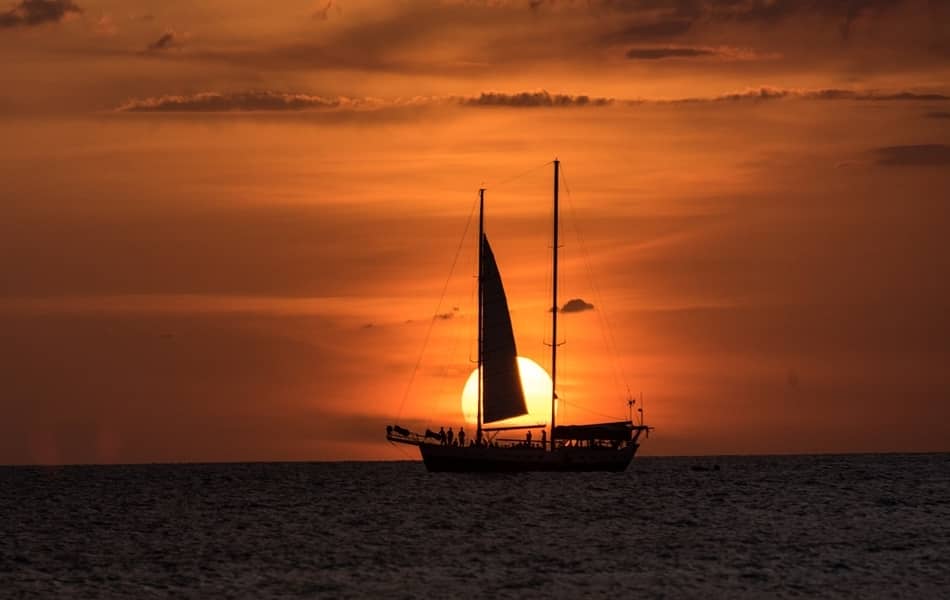 There is no question that Costa Rica is one of the most naturally diverse, most beautiful countries to be found in Central America. 
And like expensive cosmetics are spent by beautiful people, so a beautiful country that most people are dying to visit does not come all that cheap.
It's overflowing with natural beauty, it has every imaginable outdoor activity to keep you hooked day after day, it is safe, it is friendly and the older generations from the USA want to go there and retire.
Because it has so much to offer, many people are pretty skeptical that it is not possible to visit it on a budget.
But the good news is that it is very much possible to visit Costa Rica without needing to break the bank.
OK, let us be honest, it is not going to be cheap, but you can get by, like we said, without breaking the bank.
Don't worry, stay calm, let us guide you through what to budget for a trip to an unforgettable country; whether you are a backpacker to in-between, to looking for all things luxury, you can have equally as much fun and adventure – that's a promise.
The Basic Costs of Time Spent in Costa Rica
Put it this way, if you only want to account for your food, a cheap roof over your head, and getting on a bus now and then, you are probably going to be able to get around on $30 USD per day.
But then, are you going to enjoy yourself?  No fun, no activities? If you increase your budget up to around $45 USD a day, sure, there are the cheap rooms, eat some local foods with a few Western meals thrown in – even still enjoy quite a lot of the activities
if you are prepared to avoid the taxis. Then you can have even more money for fun and adventure.
On a budget of $45 USD, it is possible that you can eat, live, and have fun and adventure, hopping on a bus to get around.
If you want to get more off the beaten track, then a rental car will be a good choice.
But really, for most destinations, buses are the way to go, being comfortable and reliable and easy to buy tickets.
The popularity of Costa Rica also means that there are plenty of amenities for tourists in the form of cheap hotels, restaurants, and tour packages.
There are also tourist buses that make the routes faster than the local buses if you find yourself short on time.
Because of Costa Rica's small size and easy accessibility, it's possible to see a lot of the country in just a relatively short amount of time.
Many people who visit the country make a point of spending time at the beaches and also in the forests.
There are a lot of different beaches to choose from on both the Pacific and the Caribbean sides.
To see the cloud forests, a very popular destination, head towards Monteverde. It's also a very popular area for zip lining and adventure sports.
When on the coast, you can enjoy any number of activities including surfing, zip lining, kayaking, and deep-sea fishing.
Many people choose to make arrangements before they arrive in the country, but it's also possible to organize everything once you arrive. This often proves to be the cheapest option as well.
Let's take a look at some budgets, from cheap to expensive, for your time in Costa Rica.
Now you can plan your trip to Costa Rica in Central America, can't you? And we are going to give you some tips on how you can actually save money whilst in Costa Rica. Remember they are worth looking at if you don't want your budget soaring through the roof!
1. First of all, do not drink, because drinking in bars in Costa Rica can get very expensive. Sometimes you might find a good deal during happy hour but try and avoid it because it really can get expensive.
2. Get meals at the sodas.  Know what that is? They are local Tico restaurants and there you get a good bargain. You can usually find what is called a Casado. That's a typical local dish and half the price of what you would pay at tourist restaurants. 
If you go to any of the towns on the Caribbean coast, you will find cheaper meals there too, for less than 1,000 CRC (Costa Rican colon).
Empanadas too are real value for money, for around 500 CRC, you can get a filling light meal, and delicious too!
3. Musmanni is a bakery chain and you will find these all over the country. You get great lunch specials here, like paying 1,000 CRC to get a sandwich and a soda. Their pastries usually are about 300 CRC. See how you can keep your food costs down.
4. Staying in dorms is keeping your budget down because you will realize that accommodation in Costa Rica is not cheap. 
Dorm rooms are cheaper than budget hotels and will cost about 5,000 CRC a night. On the Caribbean coast, you might even find them cheaper.
If you don't fancy the idea of dorms, you can do some couchsurfing.
This gets you in contact with the locals and some of them allow you to stay in their houses for free. Then you get the added bonus of meeting the locals and cutting down on accommodation costs.
6. Drink Costa Rica water because it is safe to drink. You can certainly buy bottled water there, at a price, but if you keep a water bottle on you, then you can refill it from the taps and save yourself spending money on bottled water.
People on a budget ask questions like these
Are US dollars accepted in Costa Rica?
Yes, US dollars are widely accepted. Sometimes when you make smaller purchases, you will often pay using USD and get CRC back.
It is good to have both colones and US dollars not larger than $20 USD though. 
You can use your credit card in hotels and restaurants in the cities, but always make sure you have cash on you too.
How many colones are in a dollar in Costa Rica?
1 Costa Rican Colón is 0.0017 United States Dollar at the moment. One US dolar is approximately 577 colones.
Should you tip drivers in Costa Rica?
For short rides, people usually just round up the money to the next dollar, but when it's a longer ride, like riding in heavy traffic, for instance, it is a good idea to tip a couple of extra dollars to the driver.
And what about tipping at restaurants?
Restaurants will often add a service fee onto the bill, so tipping is unnecessary. But nevertheless, tips are appreciated when you get a really good waiter who provides excellent service.
Are you ready to plan your trip to Costa Rica?
The flight
Look for cheap flights. You can use Skyscanner or Momondo, good search engines that search websites and airlines all around the world, leaving no stones unturned.
Don't forget travel insurance, which will protect you against injury, illness, cancellations, and theft. It's worth it.
Good places to get this are at, for example, World Nomads (for the under-70s) and Insure My Trip (for the over-70s)
Booking your accommodation
Booking.com is great for budget accommodation. They offer you the cheapest rates for cheap hotels and guesthouses. A hostel you can find on Hostelworld. If you want to find good companies through which you can save money when you travel, check out my resource page.
Popular foods
Most people don't visit Costa Rica for the food. The food is simple and natural and most of the dishes are made with rice and beans with some meat and salad.
On the coast, you will find scrumptious seafood choices, and fresh fruit is always available throughout the country.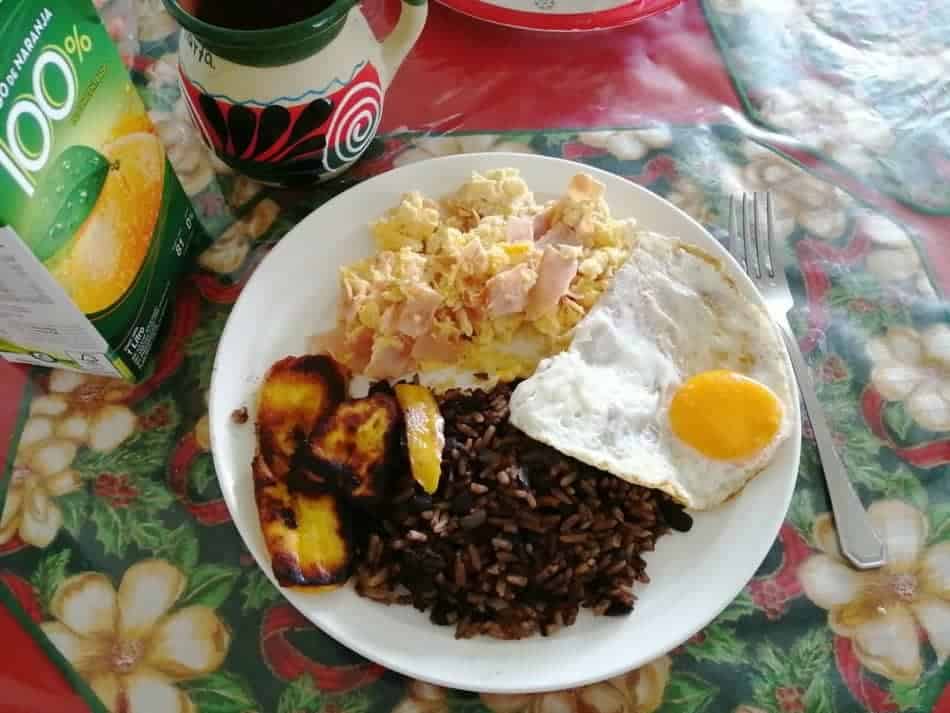 o   Gallo pinto: This is a popular rice and bean dish, seasoned with onion and cilantro, commonly served at breakfast. A real filling way to start your day and you will find it on most menus in restaurants across the country.
o   Casado: A popular lunch dish also comprising rice, beans, and meat like chicken or fish, accompanied by fried plantain and salad. Delicious.
o   Salsa Lizano: A delicious condiment found on most tables of restaurants, just like ketchup. It's got a strong flavor but is not spicy.
o   Fresh fruits and coconut water to fresh seafood at your local soda restaurants is your cheapest option for eating out in Costa Rica.
o   Take your pick from the various farmers' markets each town has because buying here is an excellent way to eat the freshest produce.
o   Chifrijo: This is a fried crispy pork dish served with rice and pico de gallo, some salsa, and tortilla chips – you will adore this bar snack!
o   Olla de carne: A hearty stew consisting of beef, cassava, corn, potatoes, green plantains, squash or chayote, and other veggies.
o   Ceviche: A popular seafood dish found all over Latin America. It's made of raw fish marinated in lime juice, tomatoes, cilantro, onions, and chili – a favorite of many!
Low Season is the right time if you are on a budget
Costa Rica's got two seasons that are the main ones, the dry season, and the rainy season.
So, if you are on a budget you want to avoid December through to Feb, because those are hectic months when tourists throng Costa Rica.
You need to book in any case and far in advance. If you are keen on outdoor activities, the dry season will naturally suit you best.
Basically, if you want to avoid the crowds and if you want to pay the lowest prices then November and June are your best bets.
Expect to pay around 5-10% less in the low season, which is May to November.
Expect to pay 5-10% more in high season which is December to April.
Expect to pay 50% more for Christmas, New Year, and Easter.
Let's look at the different category of travelers from the super cheap to the super expensive
Super cheap
Transport: Public buses. Flexibility with traveling is key to saving money this way
Accommodation: Dormitories, hostels. Reservations not usually accepted in this price range
Food: From a grocery store or fast foods.
Budget: $25 a day, this is if you stay pretty much in one place, eat rice and beans and walk along the beach. For 8-10 days: Roughly $220 – $420 per person.
Backpacker
Transport: Public buses. Where appropriate, hitchhiking will help to save money on transportation costs.
If you are picked up at any time, it would be a nice gesture to offer the driver a buck, maybe two.
People in the countryside are far more likely to offer you a ride than people from the city. If a person stops to offer you a ride and then starts talking about prices, walk away.
Accommodation: The cheapest hostels. Costa Rica is a great place for camping in rural areas. If you really want to save cash, you can even consider a backpacking hammock.
Food: Rice and beans are the foundation of low-cost Costa Rican meals, and if you don't mind eating it a lot, you will really save on food.
Otherwise, a hearty plate of pinto, beef, and fried plantains will be around $3 at some small local establishments.
If you are out camping a lot and want to save even more cash, a portable backpacking stove will help so you can do your own cooking.
Budget: $45-80 a person per day. For 7-10 days: Roughly $400 to $850 per person.
Economical
Transport: Choices of transports.
Accommodation: Choice of accommodation. A lot of lodges and hotels in this range accept reservations.
You might find rental houses or condos that are affordable if you are more than 3 in your group. Estimates below assume double accommodation so if you are solo, you just adjust accordingly.
Budget: $90-150 a person per day. For 7 days: $630-$1,050 per person. Total trip costs will be around $1,100-$1,700 per person.
Luxury
Transport: Choices of whatever you choose in comfortable transportation
Accommodation: Advance reservations are recommended for any choices you make
Budget: $170-250 a person per day. A budget of around $200 per person per day buys you super vacation in Costa Rica with superior lodging being around $125-$275 a day with specialties to discover the best of what Costa Rica has to offer.
For 7 days: Roughly $1,200 to $1,600 per person.
For deluxe luxury: $275-500 a person per day. For 7 days: $1,925 to $5,000 per person plus airfare. 
Remember the extras you need to budget for
Souvenirs and shopping: These add up fast, things like t-shirts for friends and the kids back home.
Uber is available in Costa Rica, particularly in San Jose – a cheaper alternative to getting a taxi.
Alcohol: The upper price ranges above include a beer or glass of wine with a meal but if it's going to be more than that, expect the budget to climb accordingly.
Cell phone:  If you can live without your phone, you can save a lot; otherwise, international calling plans will vary from being free to $10 per phone per day.
Rental Car Insurance and damage waivers:  You can use the insurance that is included with your credit card because it gives good coverage and is free. You might opt for the insurance and waivers offered by your car rental business.
Excess banking fees:  Set aside money for airport ATMs and things like paying for international transaction fees – these could add up.
Splurging: Sometimes on a whim, you long to join friends on maybe a helicopter ride up the coast, things like that. Realize that you could spend a few hundred extra bucks in a few minutes.
Mistakes: Try and avoid mistakes which can be very costly.
There are so many mistakes one can make, from careless planning to landing at the wrong airport. Just remember to take your time to plan your trip as much as possible.
Extra costs: Small costs can eventually add up, like these:
§  Airport taxi or car service.
§  Public transport to the airport.
§  Airport parking, etc.
Families who have small children might find savings if everyone piles into the same room.
Whatever your budget, do not forget these festivals if you are in town
Envision Festival: A very exciting music and arts festival. The next one is in February 2021. You experience 4 days of love, peace, yoga, and some killer tunes on the beach of Uvita. If you are here during that time, do not miss it!
Bamboo Bass Festival: If you adore bass music, then this festival will satisfy you no end, with its skull-pounding rhythms. The next one is in February 2021.
Ocaso Underground Music Festival: This fest takes place every year in early January. What you get is an impressive lineup of techno and house artists.
Palmares Festival: Just endless fun that lasts for 2 weeks in sheer carnival style.
Know before you go, what to budget for in Costa Rica
Sometimes visitor's expectations of really low prices get shattered when they actually are in Costa Rica. But that should not discourage you.
With the above tips and useful advice, you will be able to plan a fantastic visit on a decent budget.
Thing is, Costa Rica is bent on conserving their precious and magnificent natural resources, so going green is worth the premium for those who believe as they do.
Activities are expensive, all designed for the tourist, so if you want to save on activities, their beaches are literally magic at morning and evening.
You can enjoy the more of the beaten paths if you really want to uncover some of the often hidden jewels of this awesome country.
Costa Rica is calling you! Buckle Up and Enjoy the Ride!!