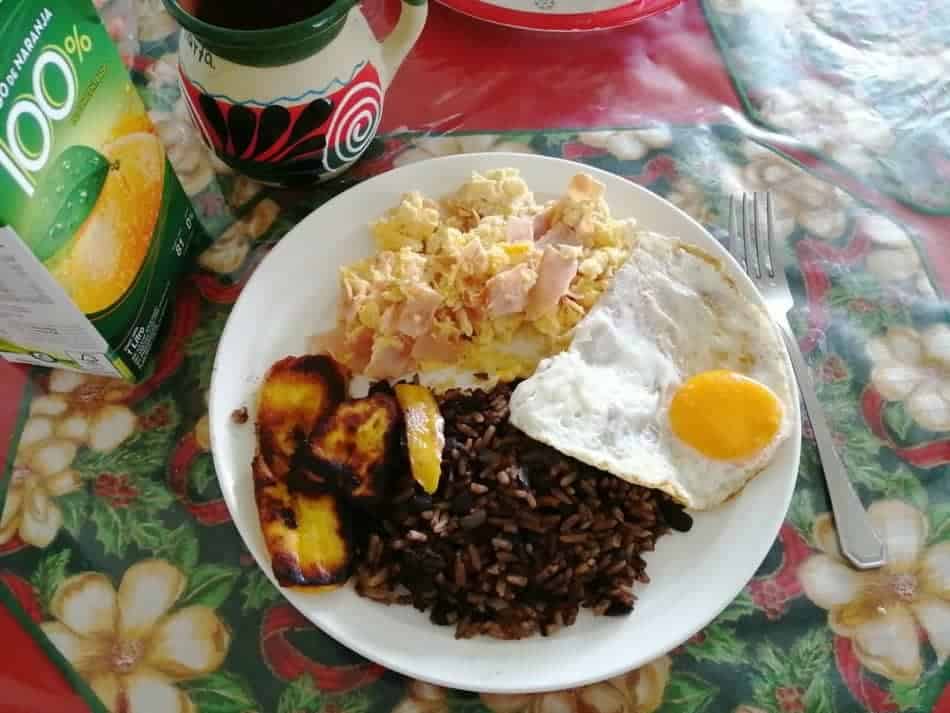 Here is the list of some of the Best Traditional Foods you must try in Costa Rica:
Gallo Pinto
Tamal
Chorreadas
Café Britt
Casado
Arroz con Pollo
Olla de Carne
Chifrijos
Patacones
Chilera
Gallo
Ceviche de Banano Verde
Empanadas
Flan
Arroz con Leche
Costa Rica is a fantastic place to visit.  When traveling there, you will experience some of the best foods.  Aside from typical dishes that you will find in many areas of the world, you must try some of Costa Rica's traditional foods.
There are traditional foods for each meal of the day, including breakfast, lunch, dinner, and snacks.  Many of the foods will be served with beans or have beans as the main ingredient. Gallo Pinto, Tamal, Chifrijo, Patacones, and as the dish says, rice and beans are all must-try foods.
Breakfast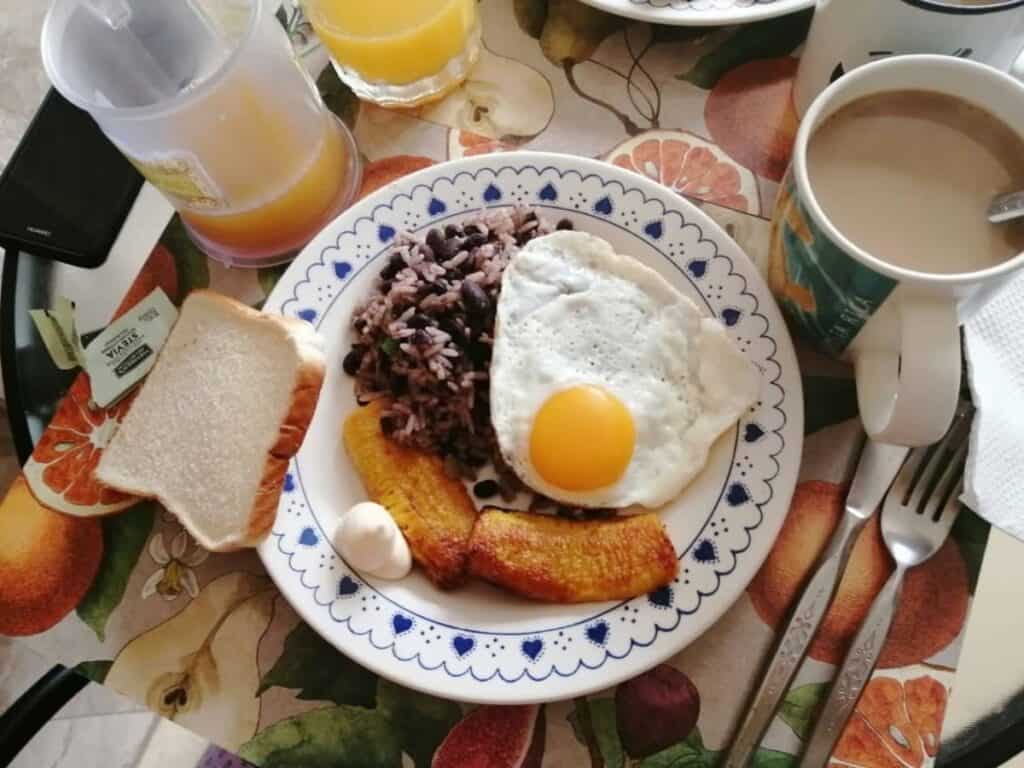 Gallo Pinto is a traditional Costa Rican breakfast.  This dish is popular in both Costa Rica and neighboring Nicaragua.  The locals simply call it pinto. The main ingredients are rice and beans, and it is made with various other for flavor.  It often contains red bell peppers, cilantro, and onions.  To eat it like the locals, add some Salsa Lizano for a final touch. 
Lizano Salsa is not easy to describe, but it is always on the table in Costa Rica.  I brought some home from my trip so that I would have some on hand when I had Gallo Pinto, but Amazon also sells it now.  Eventually, I will try to make my own as there are recipes available through a quick Google search.
Tamal is another popular breakfast food in Costa Rica.  Costa Rican chefs use a lot of garlic in their dishes.  Though heavy on the garlic, they are light on other spices, so you won't be burning your mouth as you may with a Mexican tamal.  Costa Rican tamals are wrapped in banana leaves and can be eaten as a meal or served with a side of beans.  You will find that many Costa Rican meals are served with beans.
Chorreadas is another dish typically eaten for breakfast, though it can also be served as a snack.  They are similar to a pancake.  Made with ground corn and fried until they are brown and slightly crunchy, they are great with your morning cup of java.
Cafe Britt is a famous coffee brand in Costa Rica.  Coffee beans are serious business for the locals, and you will get nothing but the best coffee in part due to the beans, and in part due to how it is brewed.  If you love your morning caffeine hit, you will not be disappointed.
Lunch and Dinner Meals
Casado, which means "married" is often eaten at lunch or dinner.  It is a substantial meal that was necessary for the physical laborers who needed energy for the day's work or a hearty meal at the end of the day.  It is a plate made of rice, beans, meat, and a salad, and it often has fried plantains with tortilla and cheese.
Arroz Con Pollo is rice with chicken.  This dish is available at every Costa Rican restaurant.  The rice and chicken are served with mixed vegetables and often a salad and fries.
Soups are not often eaten in Costa Rica, but if it is the rainy season and you want something warm and delicious in your belly, try the Olla de Carne. 
This beef stew is very healthy.  It is made with beef, yucca (similar to a potato with a sweeter taste), corn, green plantain, taro (a root vegetable), yam, carrot, and potato.
This meal takes a long time to make, so not every restaurant will have it available, or it may only be available on certain days.  The vegetables need to be slowly roasted to create the unique flavor that your palette will experience.
Trying this dish will connect you to Costa Rican culture as it uses many locally produced vegetables.  As with many meals in Costa Rica, it may also be served over rice.  Many Costa Ricans consider this a comfort food.
Though soup is not typical, Sopa Negra is a traditional soup that is filling.  This soup is made with black beans, onion, cilantro, bell peppers, tomatoes, hard or soft-boiled eggs, and some spices.  Costa Rican food is not typically spicy, so if you want to spice it up a bit, add some Tabasco sauce.
If you are on the Caribbean side of Costa Rica, rice and beans are popular for a meal.  Though it sounds like it would be the same as Gallo, it is not. 
The locals use coconut milk in the rice and beans and eat the dish with Patacones (mashed, fried plantains) and either chicken or fish.  If you want to add a little zip to it, you can add some Caribbean hot sauce.
A typical Caribbean hot sauce can be made with one variety of pepper or with a combination of different peppers.  Scotch Bonnet peppers are often a key ingredient in traditional Caribbean hot sauce.
Snacks and sides
Chifrijos are often served at the bars in Costa Rica.  It consists of rice, beans, pico de gallo (fresh salsa), chicharrones (fried pork), and guacamole.  Chifrijos are served with tortilla chips, corn tortillas, or bread.
Patacones are often served as a snack.  They are mashed plantains served with guacamole, pico de gallo, or beans.
Chilera is often served as a side dish in Costa Rica.  They are always different, but it is a version of pickled vegetables.  It seems no two restaurants make it the same, so it is still a treat to try it anywhere and see what you might get.  Many Costa Ricans eat chilera with most meals.  Traditional cooks will make chilera with vinegar made from the banana (guineo negro).  It is typically eaten as a condiment in place of mustard, ketchup, or hot sauce.  They will use garden ingredients such as hot and sweet chiles, onions, cauliflower, and many other vegetables.
Gallo is a snack that is commonly eaten in Costa Rica.  It is a tortilla served with meat or beans and cheese.  Common meats served are beef, chicken, and pork.
Another popular snack is Ceviche de Banano Verde. It is made with green banana, lettuce, onion, celery, sweet pepper, and lime juice.  This mixture is served with tortilla chips.
Costa Rican Empanadas are a great fast food snack for on the go.  The empanada is filled with meat and cabbage. 
Desserts
There are a few traditional desserts that must be sampled as well.  Flan is a sweet dessert made of milk, vanilla, sugar, and eggs.  It is cooked in a pan lined with caramel to make a tasty egg custard that is chilled before serving.
Rice with milk is called Arroz con Leche in Costa Rica.  Costa Ricans make it with rice, milk, sugar, salt, lemon zest, and cinnamon sticks, so it is not the same as rice pudding. 
This combination of ingredients gives it a unique flavor that you must try for yourself.
When you get a chance to visit Costa Rica, a country so beautiful I have visited three times so far, make sure to tantalize your palette with traditional foods. 
You will be glad you did.  Many of the foods can also be made when you return home so that you can relive your experience time and again.