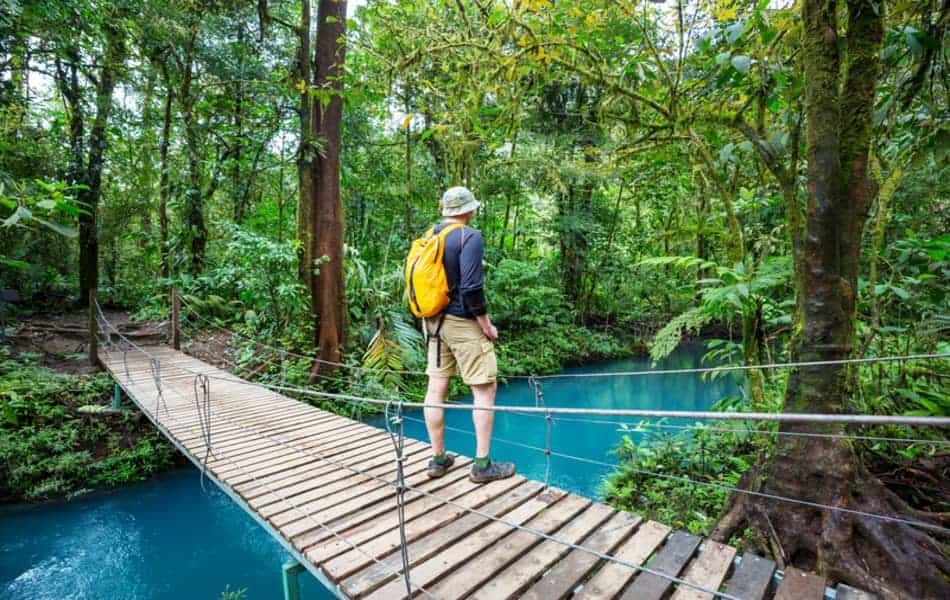 Costa Rica is a country that demonstrates great sensitivity when it comes to its environment, setting aside huge portions of land as national parks and protected areas. People who visit are rewarded with nature's marvels. This haven of peace is very popular as a hiking destination for those who adore nature and wildlife – in this small country, one can find at least 5% of the world's diversity!
Traveling by foot allows you to be fully immersed and present in the surroundings
Hiking gives you the chance to see the unique plant life and wildlife experiences. There is something so healing, soothing, and enlightening to find yourself deep in the jungles and forest, listening to the symphony of flora and fauna, to see the colors and to breathe in the pure air. Just about down any path or trail, you will find yourself in a whole new world!
There are a huge variety of hiking types and routes, your hands (and feet) will be full
For that reason, we have put together 4 of the best hikes, no, 6, four shorter ones, and two longer ones, all of them leaving you coming back for more! Take your pick of national park hiking, private trails, night walks, with guides, without guides – the choice is yours.
The most popular hikes are the beach ones. But other very popular ones are the lava fields at the Arenal Volcano, as well as the cloud forest at Monteverde. And then we are going to take to you the beautiful Celeste Waterfall at the Tenorio Volcano.
These particular hikes are not miles and miles of hiking; in fact, each one is less than two miles. If you are a more serious hiker looking for something more challenging, there are two mentioned at the end that will take your breath away, maybe literally!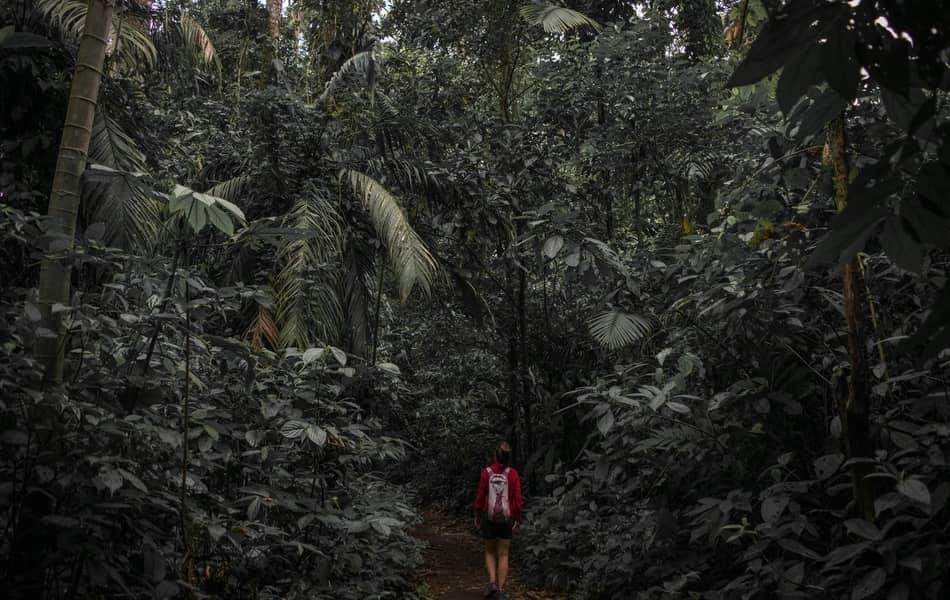 Coming to Costa Rica, the Arenal Volcano is a must-see.
Yes, it was spitting up hot lava as recently as 2010. You can't climb the volcano because no one knows when it can erupt again, but there are plenty of hikes around it in the Arenal Volcano National Park.
There are 4 hikes of varying stages of difficulty and you can catch amazing views of Lake Arenal.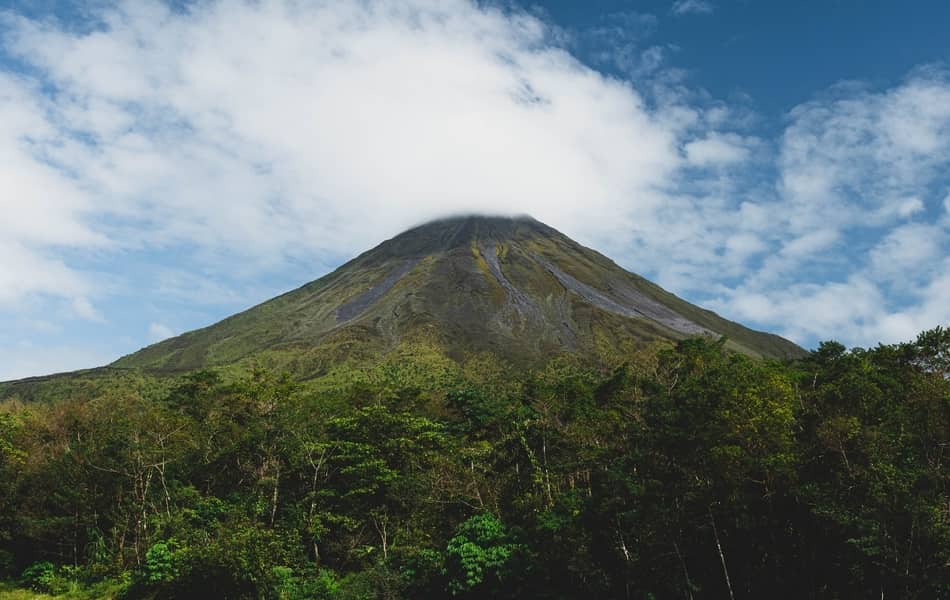 If you are not intimated by heights, then you can't miss out to experience the Arenal Hanging Bridges – and they're long too. It consists of 2 miles of a series of suspension bridges where you get views of the volcano and the lake, as well as majestic flora and fauna. Don't be surprised to notice sloths, toucans, and monkeys. And if your muscles are exhausted from all the exploring and walking, there are natural hot springs to relax in.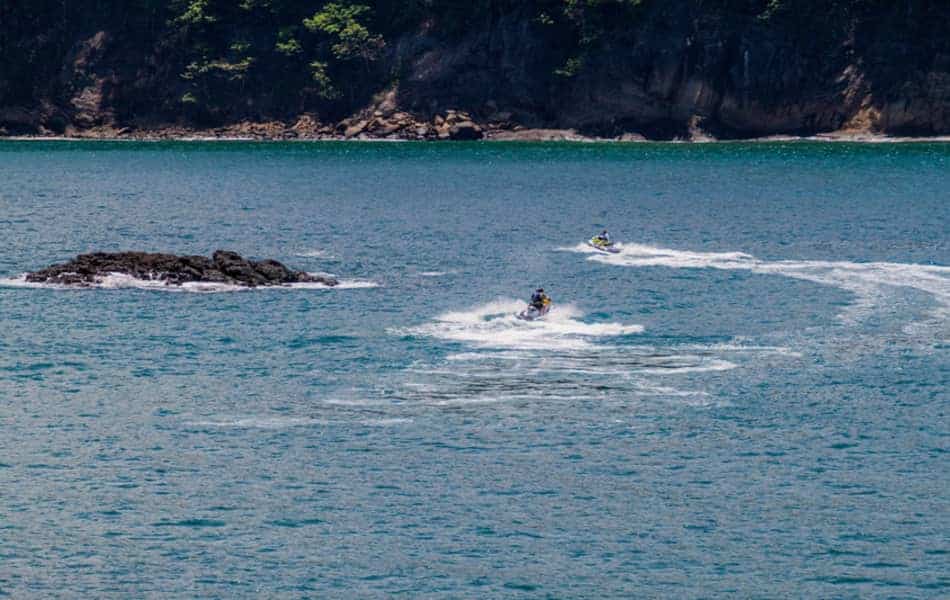 You don't need a tour guide to hike this park, but many people recommend it, some saying it is necessary.
It might be a national park, but it boasts some of the best beaches in the country. You will find this park on the Pacific coast; it abounds with pristine white beaches, edged by the lush forests of the park.
Although this is one of the smallest national parks, it is very popular because of its stunning wildlife and beaches. If hiking is your thing, Manuel Antonio National Park has 6 different trail options for you to enjoy:
La Catarata – this is around 200 meters from the park entrance and the trail is around 900 meters long, leading to a small waterfall.
Punta Catedral is 1.4 km long and will take you about an hour to walk. Along the way, there are a few lookouts that allow you to enjoy spectacular views. Punta Catedral is a favorite among both locals and foreign tourists.
Playa Gemelas: This is another short trail, connecting to the other trails in the western portion of the park. If you walk this trail at low tide, you get a wonderful chance to view Punta Catedral.
El Perezoso: A shorter tail, it runs parallel to the main trail in the park. It's very scenic and you might be fortunate to notice some sloths, as they seem to frequent this area quite a bit.
Mirador. This one is 1.3 kilometers in length, leading you to a fantastic, gorgeous lookout from where you will be able to observe the majestic beauty of Punta Serrucho.
Congo Trail: This short trail connects Playa Gemelas and the Mirador Trail; so you can also use it as a return route.
The legendary Rio Celeste Waterfall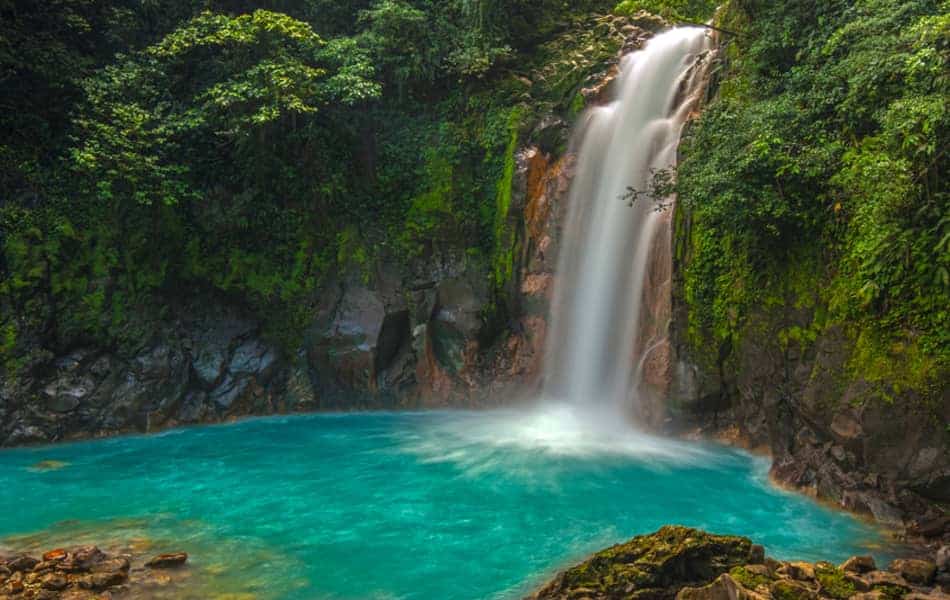 This waterfall islocated in the Guanacaste province in the Tenorio Volcano National Park.
You don't need a guide or permit to walk the 30-minute or so hike to view the waterfall. You will need a permit though to enter the National Park.
You will find natural hot springs, wildlife, hiking trails, and of course the notable Rio Celeste Waterfall. There's a legend about this waterfall, and if translated, it means Light Blue River. Local legend says that when God was finished painting the sky, he washed out His paintbrushes in the river, turning it into a brilliant blue that people are absolutely fascinated by. 
There's only one ranger station in the Tenorio Volcano National Park; open from 8-4 each day.
The one hiking trail in the park introduces you to multitudes of natural wonders, ultimately leading you to the brilliant blue Rio Celeste. It's a 3½-miles trip. What grandeur awaits you to watch the powerful waterfall plunging 98 feet into a pool of brilliant blue water, surrounded by dense tropical forest.
As you approach the waterfall, you come across a series of around 250 steep steps – you won't be able to resist stopping to take in the grandeur around you.
On the way you will find:

The Laguna Azul pool: Many people say it reminds them of the magic mermaid lagoon in the Peter Pan movie.

Another highlight that comes after Laguna Azul is Los Borbollones. This is a part of the river where sulfuric gases bubble up through the water from the volcano.

Another delightful highlight is El Teñidero. You will cross an Indiana-Jones- type-bridge and then arrive at El Teñidero. It's the place where the minerals of the two rivers, the Quebrada Agria and the Rio Buena Vista, meet, giving the Rio Celsese that amazing blue color.

No swimming allowed.
Famous overnight hikes for you to enjoy!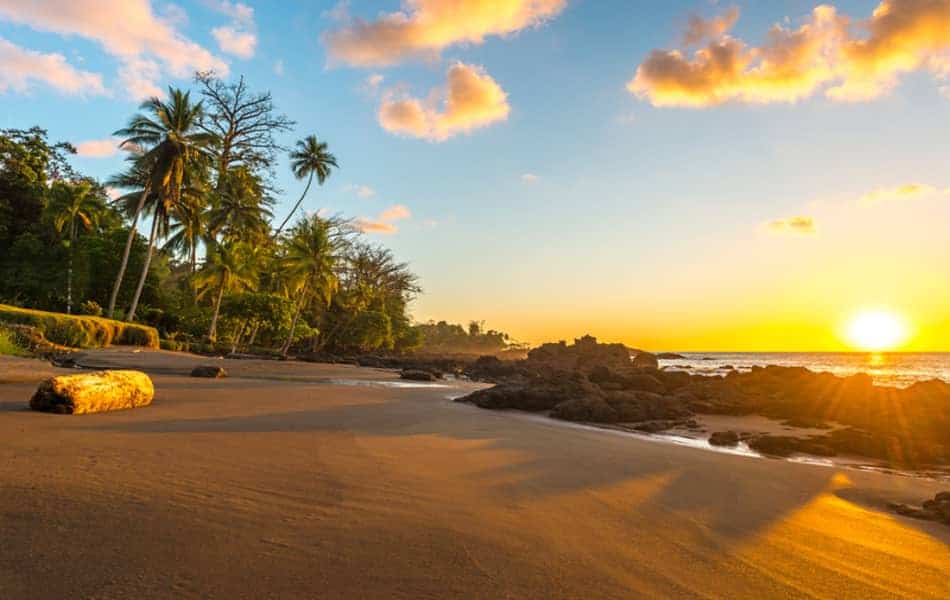 People love the Corcovado National Park because they can hike along deserted beaches, watch cascading waterfalls, and check out pristine forests all on one hike. The Corcovado hike isn't easy, but still remains a firm favorite – it's a diamond amongst the other national park gems in Costa Rica. National Geographic once said it was "The most biologically intense place on Earth."  
The hike taking about 7-8 hours to complete – altogether it's about 8 km long.
The ranger station is the Sirena Ranger station. It's surrounded by virgin rainforest.
You need a permit to visit this unique place and visitors need to be accompanied by an accredited local guide. If you don't have these with you, you can't enter the park without these.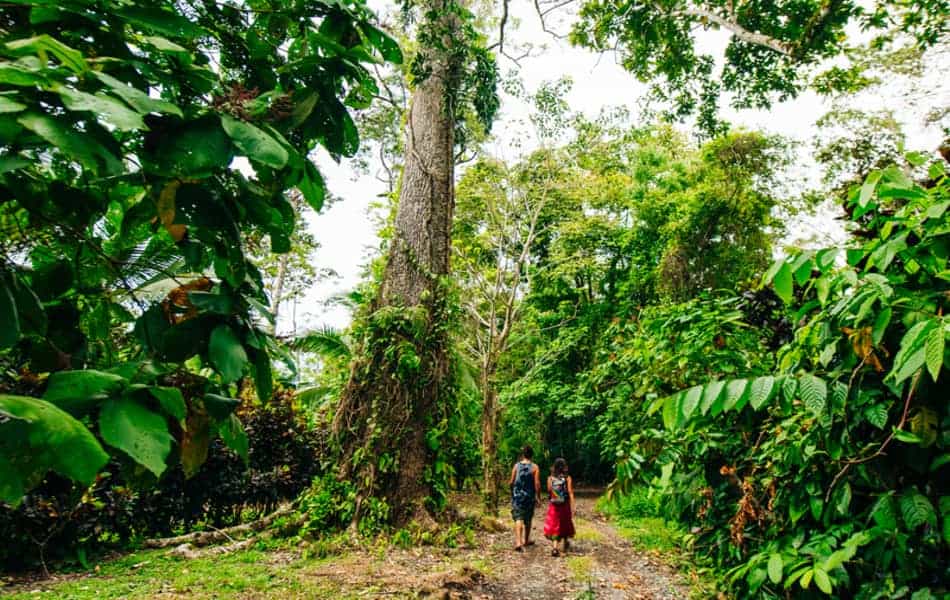 Cerro Chirripó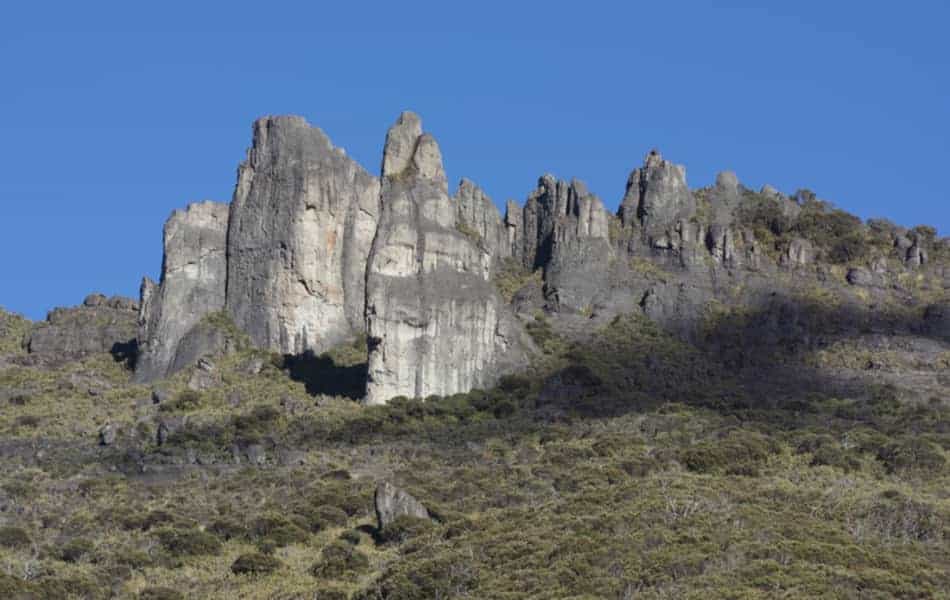 This is where you pass true rain forest wilderness and pristine beaches.
Chirripo is also the most challenging hike, but it's the chance of a lifetime to hike to Costa Rica's tallest peak.
You also need a permit for this trial which is verified by the rangers at the base camp – it's about a 19 km hike (12 miles).
It's one of the wilder national parks and the views are so spectacular that when it's a very clear day, you can see both the Pacific Ocean and the Caribbean Sea at the same time. It's an exhilarating accomplishment for most hikers. The diversity as you climb from the pastures at 3,300 feet to near the peak at 12,530 feet is absolutely fascinating.
Camping is not allowed to protect this magnificent ecosystem.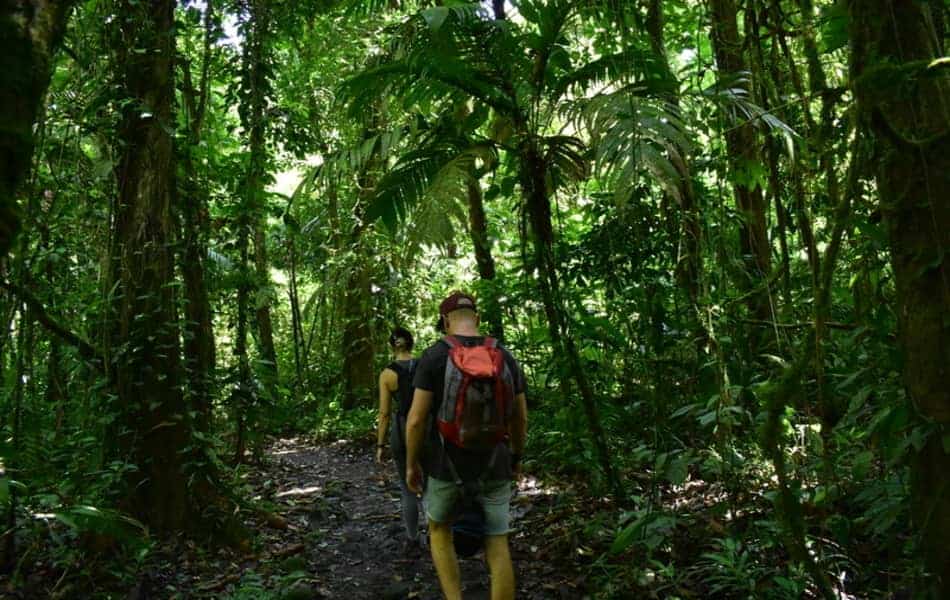 The beautiful thing about hiking is that you see beautiful things – it's walking and enjoying nature at its best. Whether you are an amateur or a professional, young or old, there is a hike for you, and always remember – "Take only pictures, leave only footprints."