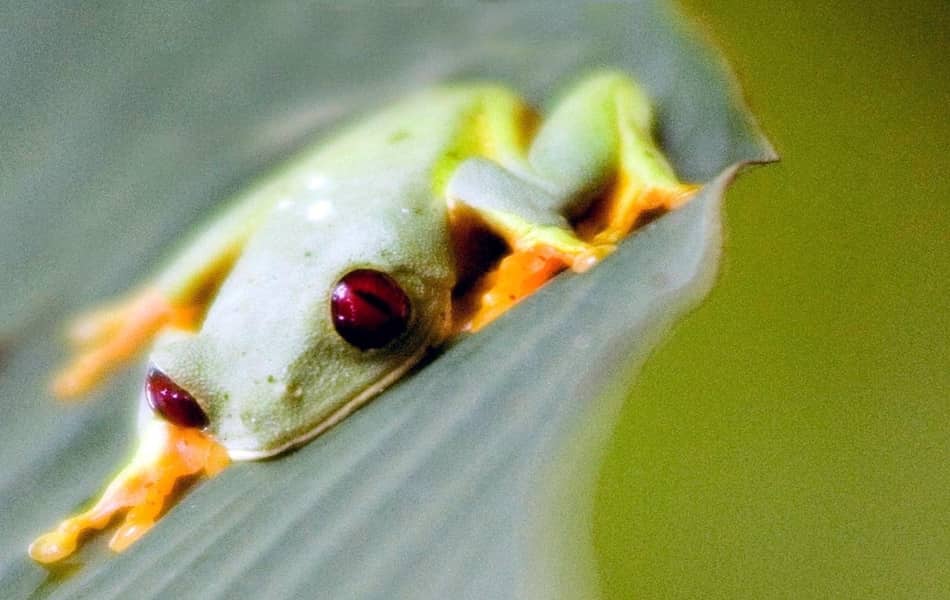 Costa Rica is one of the marketable and favorite bucket lists not only for the locals in Central America but also for expats from all over the world. The beauty and diversity of the wildlife along with the pristine beaches make Costa Rica a tourist hot-spot. Manuel Antonio National Park is not an exception.
Manuel Antonio is a perfect place for families, group of friends, or even for solo travelers. It amazes you with exotic wildlife, luxury eco-resorts, and generously stunning landscapes and views.
Where is Manuel Antonio National Park Located?
The smallest park on the Pacific Coast of Costa Rica, which only holds a 682-hectare landscape, Manuel Antonio National Park, is in the southeast part of Quepos City, Puntarenas Province.
With its size, it doesn't mean that there is nothing to be amazed at; in fact, it is one of the most visited parks in Costa Rica due to its lush green jungle, pristine beaches, fascinating wildlife, and exceptional views.
When is the Best Time to Go to Manuel Antonio National Park?
If you want to visit Manuel Antonio National Park with a lesser crowd, book your travel between mid-April to November. Keep in mind though that these months are the wet season, so list your itineraries accordingly.
If whales and dolphins excite you, you can visit Manuel Antonio National Park from December to March when you can observe them migrate offshore, if you're lucky enough.
Whichever month you are planning, make sure to be as early as possible so you can avoid the crowd in the ticketing area and to spot more wildlife.
If possible, avoid visiting on weekends or holidays to escape the massive crowd and to enjoy the park's flora and fauna. Furthermore, the park can accommodate up to 600 visitors on weekdays and a maximum of 800 during the weekends.
How is the Weather in Manuel Antonio National Park?
Costa Rica is a tropical country, so expect that it rains all year round even during the dry season.
It's constant that the temperature is moderately humid around 30-degrees Celcius.
a. Dry Season – between December and March which is also the park's peak season
b. Wet Season – between April and November, September being the wettest
How Do You Get to Manuel Antonio National Park?
There are several options to get to Manuel Antonio National Park. While public buses are the cheapest and most convenient, you can also opt for shuttles or rent a car depending on your comfort, especially if you are with your family and kids or larger groups.
1. Public Buses
a. From San Jose
The most affordable option to reach Manuel National Park is by a public bus if you are coming from San Jose. Outside the Transportes Tracopa Terminal, there are daily buses from Calle 5, Ave 18/20 that leave every two hours starting from 6:00 AM without any bus transfers. All buses direct to Quepos Bus Station.
From Quepos Bus Station, transfer to buses going to Manuel Antonio National Park. The buses run from 5:30 AM to 9:30 PM with half an hour interval. Although it will not drop you directly at the park's entrance, you have to take a 5-min walk through the Beach Trail to reach the park.
b. From Jaco
There is a direct bus from Playa, Jaco towards Quepos Bus Stop that would take you around 1.5 hours or longer, depending on traffic and stops.
c. From Tamarindo/Coco
Take a bus from Liberia towards Puntarenas with a schedule from 5:00 AM, 7:45 AM, 8:30 AM, 9:30 AM, 10:30 AM, 12:30 PM, 2:40 PM, and 3:30 PM. Then from Puntarenas Station, take the bus heading to Manuel Antonio that runs daily starting at 5:00 AM, 7:00 AM, 9:00 AM, 11:00 AM, 1:30 PM, 2:30 PM, 4:30 PM, and 5:30 PM.
2. Rent a Car
The roads to Manuel Antonio National Park are completely paved; hence, a 4×4 is not necessary. Just take precautions when you drive through Quepos since it is a curvy and narrow road.
The park is about a 3-hour drive or longer, depending on the traffic from San Jose. Take Route 27 West towards Jaco Exit until you reach Costanera Sur. Continue driving for 1.5 hours en route to Quepos down to Manuel Antonio Hill.
3. Shuttle Van
You can also hop on shared shuttles consisting of 1-6 passengers if you are coming from Guanacaste.
If you are coming from San Jose, there are only two schedules for shared shuttles, one in the morning and the other in the afternoon, with one stop along the way. The shuttle accepts 10-15 passengers and only picks and drop-offs at hotels.
To avoid being left behind, we recommend you to pre-book the shuttles via Interbus, Easy Ride, and Caribe Shuttle.
If you are traveling with your families and kids or friends, it is advisable to book for a private shuttle. Though it would be more expensive, it gives you the freedom to stop along the way for bathroom, restaurants, or picture taking on the sides.
4. Air
From San Jose, Quepos Airport is about 170 km away via Sansa Airlines or Nature Air, which takes you only about 20 minutes flight.
5. Tour Packages
We recommend you to pre-book with a tour company, especially if you are visiting during the peak season from December to mid-April. You don't need to worry about scams as the company will take care of everything.
About Manuel Antonio National Park
Costa Rica is home to a wide array of wildlife and mangrove habitats. Hence, it is no doubt that even on the trails of Manuel Antonio National Park, many endangered species like white-faced monkeys, howlers, toucans, sloths, coatis, and iguanas are wandering while you pass and click.
What to Bring / Wear in Manuel Antonio National Park?
Aside from your comfortable swimsuit, flip tops, tank tops, and lightweight shirts/shorts, ensure to toss the below lists in your backpack before starting your day in Manuel Antonio National Park.
1. Right Snacks
If you plan to spend your whole day in Manuel Antonio National Park, take into account that there are no mini shops or restaurants inside the park.
However, bear in mind that anything sweet like candies, cookies, and chocolates is prohibited as it has a strong smell that would attract the animals towards your bag.
You can bring drinks, peeled fruit, and sandwiches in individual packages. Attendants search your knapsacks at the entrance.
2. Binoculars
Some animals are hard to spot on, especially during the wet season, and if you don't have a tour guide.
3. Water
Keep yourself hydrated, especially with the humidity of Costa Rica.
4. Waterproof Backpacks
Since it is a tropical country, afternoon rains are typical in Costa Rica even during the dry season. So save your gadgets, laptops, or lenses from the splashes of rain.
Operating Hours and Fees
Manuel Antonio National park is open from Tuesday to Sunday from 7:30 AM to 4:00 PM. You can enter the park for $16 or $3 for locals. For kids under 12, the entrance fee is free.
We recommend you to visit the park early in the morning. Even if you tour Manuel Antonio National Park during the low season, exploring the park early morning gives you appreciably more views of all the animals, as they are much more active in the morning than at midday.
Activities at Manuel Antonio National Park
There is so much walking and hiking to do in Manuel Antonio National Park than animal watching or lying on the beach the whole day. Maximize what you paid for, so be sure that you plan your 9-hour trip wisely.
1. Explore beyond the trails
Manuel Antonio National Park offers you different trails inside the park. It ranges from 287m to 9km, allowing you to choose from easy to moderate challenges.
The most popular trails are the Main Route or Sendero Principal and Sloth / Mangrove Routes with 2.2 km midway the park's entrance en route to the Manuel Antonio National Park Beach.
If you prefer tranquility, several other trails are waiting for you to explore. You can try the side trails towards the waterfall, Hidden Port Trail, or Gemelas Beach.
Below are the trails you shouldn't miss (from the longest to the shortest trail):
a. Waterfall Trail (9 KM)
b. Main Trail (2.2 KM)
c. Gemelas Beach Trail (1.6 KM)
d. Punta Catedral Trail (1.4 KM)
e. Lookout Trail (1.3 KM)
f. Official Road (1.3 KM)
g. Sloth Trail (1.2 KM)
h. Hidden Port Trail (0.7 KM)
i. The Trap Trail (0.2 KM)
Don't worry, you won't get lost because maps are available inside the park for your references.
2. Look out for endangered wildlife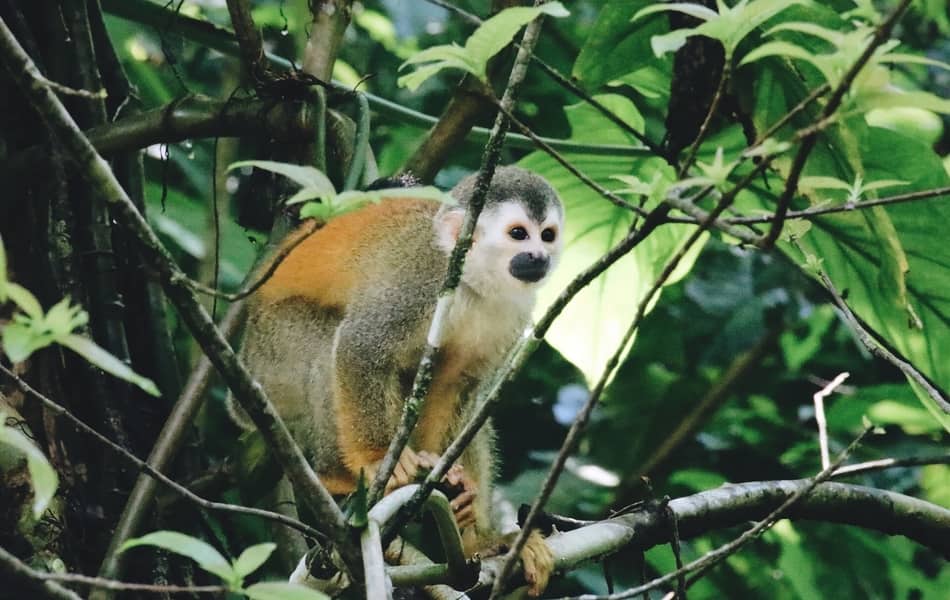 Manuel Antonio National Park has an abundance of wildlife such as squirrel, howler, white-faced monkeys, spider, coatis, raccoons, anteaters, ocelots, pacas, varieties of reptiles such as iguanas, lizards, crocodiles, a wide range of birds like parakeets, parrots, toucans, trogons, aracaris, hummingbirds, and much, much more.
3. Sunset Viewing
Manuel Antonio National Park closes at 4:00 PM, but you can end your day watching the sunset right outside the park. Head on to Espadilla Beach and spend the rest of your day surfboarding and watching the sky unfold through its pink to orange to deep red shades.
Where to Eat
Plan how you will spend your day in Manuel Antonio National Park. It is a magnificent place to indulge in biodiversity. However, the park does not offer any restaurants or mini shops. So, pack the right snacks and refreshments you would need throughout the day.
However, you can find a few cheap eats and stunning views outside the park right after you wander. You can try Café Agua Azul, which is best for smoothies, burgers, and sandwiches. If you want to indulge in coffees and cakes, try Café Milagro.
If you want to experience a typical Costa Rican taste and feel, head on to El Arado Restaurant and El Chante Soda.
Where to Sleep
Plan a nature-filled, eco-hotel when you visit Manuel Antonio National Park. Consider the Costa Verde Hotel, which is a walking distance from the park. If you prefer a more luxurious resort, try Arenas del Mar located on the beachfront.
If you plan to stay a little longer at Manuel Antonio and explore the city, La Palapa Eco Lodge Resort provides you a garden room with a lush pool area.
Conclusion
For a 3-pack vacation bundle of beaches, wildlife and rainforest, grab your planners now and head on to Costa Rica's Manuel Antonio National Park.
Whether you are on a honeymoon, family relaxation, or to unwind alone, this small park is perfect to reinvigorate your mind and soul.
And yes, don't forget to bring cash, it's easier to transact with Colones than in US Dollars.
Photo Special Thanks to:
https://unsplash.com/@bellaskova
https://unsplash.com/@victoriabcphotographer