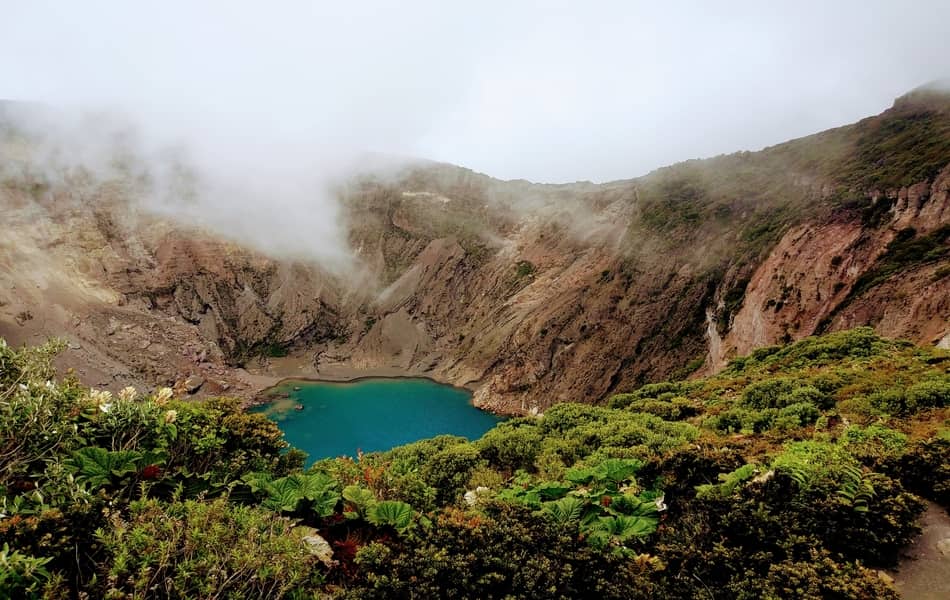 The beauty and charm of Irazu Volcano National Park does not only captivate the eyes of the locals and its visitors but also fascinates the whole world.
The volcano, "Irazu", which means "thunder and earthquake mountain" is an active volcano with its last eruption in 1994. Although it is an active volcano, it is perfectly safe to visit its majestic panorama.
The volcano sits within the Irazu Volcano National Park. While the highlight of the park's visit is the volcano, it also offers various activities and views nearby that would let you, your family, and friends leave Irazu Volcano National Park content and mesmerized.
Where is Irazu Volcano National Park Located?
Irazu Volcano National park is located in the realms of Cartago City in the Cordillera Central with an easily accessible paved road.
It is nearby the communities of Tierra Blanca, Cot, Potrero Cerrado, and San Juan de Chicua, where you can stop by and take a click of outstanding views along the road.
When is the Best Time to Go to Irazu Volcano National Park?
The best time to visit Irazu Volcano National Park is during the dry season, which is March and April. Regardless, expect high winds and chilly temperatures all year round.
But even if you visit during the rainy season, make sure to bring a rain jacket and extra clothing as the view is still spectacular.
How is the Weather in Irazu Volcano National Park?
Comparing to the other national parks in Costa Rica with humid and hot weather, Irazu Volcano National Park sits in a higher elevation. Therefore, expect the weather to be as chilly as 7.2 degrees Celcius.
How Do You Get to Irazu Volcano National Park?
One of the breeziest parks and a must-see in Costa Rica is Irazu Volcano National Park. There is no direct transport from the central city to the national park.
From San Jose, you have to travel via the Panamerican Highway to Cartago. You can also reach the park through public buses and tour packages, as indicated below.
1. Rental Car
It is easier to reach the park if you are from Cartago, which would only take you around 30 kilometers at 1.5 hours, depending on the traffic.
However, if you hop off at San Jose, you need to drive off east to Cartago, taking Florencio del Castillo Highway, for 23 kilometers, then down to the Irazu Volcano National Park.
The park is simple to navigate that you can use Waze and Google Maps to make it at the entrance. Additionally, the signs are also visible and direct, so you don't have to worry about getting lost.
You can, as well, drop off along the way to enjoy and take pictures of the breathtaking panoramas.
You can marvel at farm animals, rolling hills, and lush mountains. If you're lucky enough, depending on the month that you're visiting, you can view fluffy white clouds at the same level as you.
2. Public Bus
You can catch a bus in downtown San Jose, from Ave 2, Street 1-3, opposite National Theater at 8:00 AM for a 1.5-hour journey.
3. Tour Packages
There are tour packages from San Jose itself that you can arrange. And since it wouldn't take you the whole day to wander Irazu Volcano National Park, tour companies can combine other places and activities for you or of your choice.
About Irazu Volcano National Park
As the highest (11,260 feet)  and largest (500 square kilometers base) active volcano in Costa Rica, it is no doubt that it is the main highlight of Irazu Volcano National Park.
The park has an area of 2,300 hectares; however, only a portion of the park is open to the public only to cater to the visitors of the main crater.
Taking into consideration the volcanic activities, few animals are wandering in the park. Although you can still observe squirrels, porcupines, volcano hummingbirds, volcano junco, woodpeckers, armadillos, robins, owls, coyotes, foxes, tiger cats, weasels, and rabbits.
What to Bring / Wear in Irazu Volcano National Park?
If you plan to experience the stunning view of the crater, bring with you warm clothing to resist a 7.2 degrees Celcius, as it is in a high elevation.
Bring a rain jacket if you are traveling within the rainy season; otherwise, typical jackets, long pants, and shoes would be just fine.
Operating Hours and Fees
Enjoy the majestic view of Irazu Volcano National Park at $15 per adult and $5 per kid ages 2-12. The park is open every day from 8:00 AM to 3:30 PM.
Activities at Irazu Volcano National Park
Since the main attraction at the Irazu Volcano National Park is the craters, you can behold its beauty for half-day to a full day, depending on your preferences.
But commonly, you can wrap up your visit by half-day only. There are, however, nearby parks to add in your itinerary to the national park.
1. Mountain Climbing
If you are bold and adventurous, this activity is perfect for you. Climbing Diego de la Haya Crater is challenging, but the reward is astonishing. The Diego de la Haya Crater is 91 meters down, and what's fascinating about this crater is its lake changes colors from emerald green to crimson red.
In case you are not a fan of challenging hikes, you can also reach the crater with a short drive.
There are four craters inside the park; however, you won't be able to see them all. Hence, we recommend you to spot Diego de la Haya and the Main Crater, which is easier to reach.
The Main Crater, which is 275 meters deep, captivates you with blue-green water surrounded by dark sand and ashes.
If you still have time, you can continue walking down the trail, and you will reach Playa Hermosa Crater. Compared to the first two craters, Playa Hermosa is flat and dry.
The crater holds the excess water in case the three lakes are full. But you can spot numerous vegetation and flower surrounding Playa Hermosa.
2. Marvel your eyes in the Highest View Point
Irazu Volcano National Park holds an 11,000 feet viewpoint. Before you go back down the hill, make sure to stop at the viewpoint and satisfy your eyes with the marvelous sceneries of the park and the craters.
If you're lucky enough and hit the highest point on a clear day, you can have an overview of the Pacific and Caribbean of Costa Rica.
3. Attractions nearby Irazu Volcano National Park
Of course, you might not be able to visit all these places along with the Irazu Volcano National Park, so pick the best place that suits your preference.
a. Cartago Downtown
                Other attractions include The Ruins of Parroquia, Basilica of our Lady of the Angels, Cuartel de Armas, and the town's City Market.
b. Orosi Valley, Cachi Reservoir and Dam
                You can, in fact, view Orosi Valley and its flowing river from the highest point of Irazu Volcano National Park. Moreover, if you are an old structure enthusiast, it would be perfect visiting Orosi, which is home to aged churches in Costa Rica.
c. Tapanti National Park
The park is in Orosi, so you might want to club in the Orosi Valley itinerary. We recommend this to be on your list when you visit Cartago as the park is one of the wettest places in Costa Rica; hence, the park is rich for its flora and fauna.
d. Lankester Botanical Gardens
If you love tropical plants, Lankester Botanical Gardens is your best choice. It is home to various collections of tropical plants like orchids, cacti, bamboos, palms, bromeliads, and heliconias.
Where to Eat
The national park has a snack wagon beside the entrance. It provides you picnic tables to enjoy hot beverages and food.
If you do not prefer snacks, you can visit some nearby restaurants before or after your visit to Irazu Volcano National Park. You can stop by at Restaurante 1910 and continue enjoying the lush green view of the park.
Where to Sleep
The best way to rest before heading to Irazu Volcano National Park is by booking at San Jose or Cartago City, which are the nearby cities. You can check out Grano de Oro Hotel and Hotel Presidente.
Conclusion
There is so much to discover about Costa Rica. Driving to and hiking Irazu Volcano National Park shouldn't be missed.
Marvel on how nature presents itself naturally. You'll never regret pinning this trip in your itineraries.
Photo Thanks to: https://unsplash.com/@alexip718