Choosing the right country to start or continue an overseas educational program involves several factors to consider. One is the quality of the educational program and what the country has to offer in your years of stay.
Costa Rica is one of the nations between the Caribbean and Pacific Oceans that provides a high-quality educational program with lots of opportunities and exploration to experience.
Although most of the Costa Rican programs are in Spanish, several options are also available in the English language. There are three types of institutions in the Costa Rican educational categories, which are the public, private, and para-university or both the state and private institutions. Private institutions can offer special vocational programs like medical, business, and engineering.
Since Costa Rica is a demilitarized country, the funds supposedly for armed forces are now being funded in the country's educational system. Hence, Costa Rica's universities are now open to modern facilities and contemporary curriculums. The country is even dubbed as one of the highest literacy rates across Latin America at 97 percent.
Costa Rica's Tuition Cost is High.
Apart from the opportunities and quality of the educational program a country offers, tuition is the top factor to consider when studying abroad. There are scholarship programs for international students who are studying in Costa Rica, so be sure that you first check your eligibility to lessen your tuition costs. Another factor to consider that would considerably affect your entire educational costs is how you choose your enrollment system, whether doing a direct registration or through a program provider. The table below shows a tuition comparison of fees from a direct enrollment to a program provider through selected universities and programs. Kindly note that the figures below are only approximate for one semester; the final fee still depends on the area of study and type of institution.
Table 1.1
| | | | |
| --- | --- | --- | --- |
| Direct Enrollment | Tuition Fee | Third-Party Provider | Tuition Fee |
| Universidad Latinoamericana de Ciencia y Tecnología Costa Rica | $6,855 | USAC Heredia | $8,048 |
| Augsburg University's Center for Global Education and Experience | $18,995 | ISA Study Abroad in San Jose | $9,950 |
| Valparaiso University | $20,260 | API San Jose | $9,480 – $15,480 |
Comparatively, considering that the funds of the armed forces went to the educational system of Costa Rica, the affordability of public universities are less with $1,000 per year. Most public universities offer a tuition fee of less than $5,000 per semester, even for an engineering degree. You may want to check and inquire about the following universities for a cheaper rate than the values stated in the above table.
1. Latin American University of Science and Technology
2. University of Peace
3. Veritas University
4. The Costa Rica Institute of Technology
5. Earth University
6. INCAE Business School
7. St. Paula University
8. The University of Costa Rica
9. Universidad del Turismo
10. University of International Cooperation
Costa Rica's Living Cost is Similar to the United States.
Another valuable factor to consider when planning to study in Costa Rica is the living costs compared to your home country. We have summarized the estimated living costs for students in Costa Rica in the below table. Of course, the values stated below still depends on the program or home stay that you have selected and how thrift you are with your expenses. You can also opt to stay with a host family if you prefer to immerse yourself in the Costa Rican culture.
Expense Detail
Estimated Cost
Remarks
Monthly Rent
$200 – $500
Dorm or shared apartment
$250 – $700
Apartment
Monthly Utilities
$75
 
Transportation
$46
 
Meals
$5 – $10
More expensive in San Jose
$20 – $40
Mid-range restaurant
Weekly Groceries
$50
 
Monthly Phone Charges
$20
 
In conclusion, you may spend around $2,500 – $3,500 living in Costa Rica for one semester. But again, you may even go lower than that depending on your lifestyle and spending management.
Travel Costs to Costa Rica are Affordable Depending on.
Generally, the airfare from the US to Costa Rica is affordable at $300 – $600 depending on which city you're flying from. The rates are lower when flying from Atlanta or Miami than in New York City or Seattle.
Miscellaneous Costs You Need to Account For.
Studying in Costa Rica is not just a school – apartment routine. Costa Rica is such a beautiful country. While learning in the country, take every opportunity to explore its wildness and beauty. Some educational programs offer trips to your selected area, but you can also organize your itinerary.
From San Jose, you can take several buses that will take you to magnificent places in Costa Rica. An average rate for any national park or beach would cost you $50, while lodging will cost you around $60 – $150 a night, depending on the hotel you've booked. An average weekend getaway would cost you $300, including meals, but you can lessen the rates if you opt to share a room with a friend. If this is still too much of a weekend getaway, you can have the chance to relax and sit on the beaches for FREE! What a great way to cool you down after a week-long of studying!
Costa Rica Educational Requirements
Before entering a university in Costa Rica, make sure to prepare the lists of educational requirements for a smoother transaction and prevent any inconveniences. English language certificates like TOEFL and IELTS are enough proof of your ability and are accepted by the Costa Rican universities. Alternately, you can also provide documents showing that you have studied English before.
In most undergraduate educational programs, a completion of your secondary level education and/or a progression of your current degree curriculum can suffice your enrollment. However, some institutions may require additional requirements. Some of these are education certificates, identification, immunization records, birth certificate, police record, and proof of Spanish proficiency. The requirements depend on the program or educational level you want to pursue, so we recommend you to double-check these documents before you decide to apply.
The Master's and Doctoral degrees have additional requirements like a four-year bachelor's degree, minimum requirement overall of (B-) or 7.75, and a minimum requirement in the major of (B+) or 8.5. Consequently, for Doctoral degrees, a master's degree is required with a minimum requirement in the major of (B+) or 8.5.
Moreover, the universities offer shorter degrees that would take up to two years and a half, which is called bachillerato. Of course, the main degrees are still on the lists like bachelor's, master's, and doctoral degrees.
Additionally, all international students in Costa Rica must acquire health insurance with international coverage. You can get additional details of the health insurance from the university you are applying to. There are two healthcare systems in Costa Rica, namely, CCSS or Caja Costarricense de Seguro Social, which is the private system, and La Caja, which is a government-run healthcare system.
You need a Student Visa in Costa Rica.
International students who plan to study in Costa Rica must apply for a temporary tourist visa to enter the country and start their studies. Although many countries don't require this for tourist visas, Costa Rican immigration asks for a birth certificate and criminal record check, so make sure to secure these documents before traveling.
When you enter Costa Rica on a tourist visa, you should now request, in writing, to the Office of International Affairs and External Cooperation a "Special Category of Student" visa. In a few cases, some students don't require a visa at all; like citizens of the US, Canada, and EU. Non-citizens of these countries but holding a visa of the US, Canada, Japan, or EU are also exempted from the student visa.
Conclusion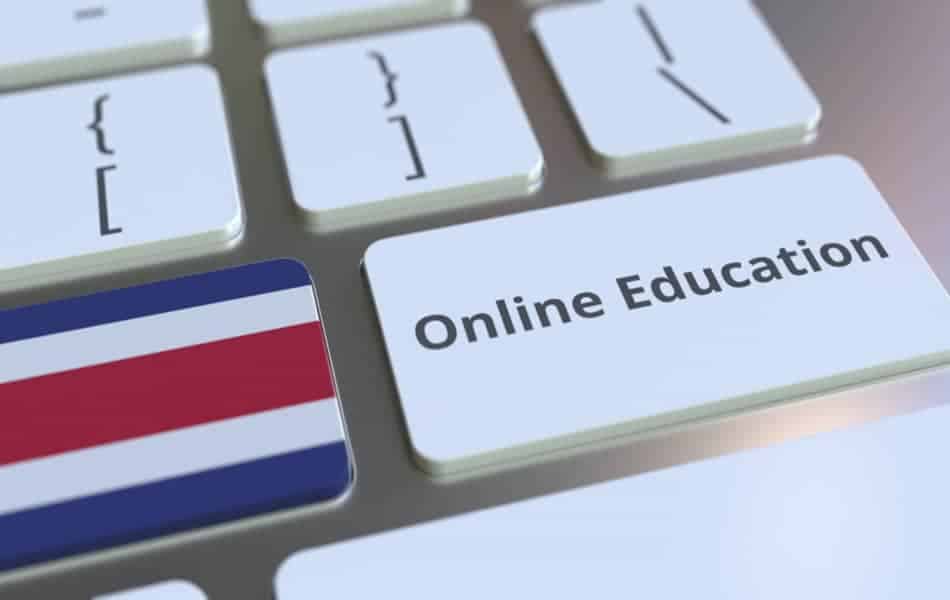 When planning to study abroad, the educational system, climate, living costs, and extraordinary sceneries are the main factors in deciding the right country. Favorably, Costa Rica is a popular destination that caters to the main requirements of an international student.
So, if you want an adventure like no other while studying, head on to Costa Rica and choose from more than 60 universities!